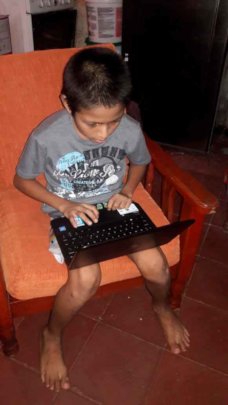 Our response to COVID-19
The health crisis threatens to widen the already unacceptably socials gaps in Panama. The most vulnerable groups have been especially impaired to access the means to live a dignified existence.
For 10 years, our program has provided a safe, warm, dignified, and loving space that allows the comprehensive development of our students, offering them a platform to thrive.
Faced with an uncertain scenario, our response is aimed to promoting our students' access to rights and opportunities so that their healthy growth and development does not stop.
Our response strategy is articulated in three components:
First and foremost, safety, prevention, and care: We have protocols to protect the health of our staff and our families, even in situations of direct assistance.
Psychosocial monitoring and assistance for food and medicine.
Access and preservation of children's rights: We are advocating for the effective access to their right to education, protection, and comprehensive development.
Response report to COVID accumulated to May 2020:
249 people benefited.
102 children and teenagers' beneficiaries
2 families with COVID positive diagnosis
Types of assistances:
Food baskets: 73 assistances
Shelter and housing: 3 assistances
Mattress: 1 assistance
Medicines: 14 assistances
Food vouchers: 135 transfers.
Computers and tablets: 30 assistances
Internet connectivity: 53 assistances
Baby formula 12 assistances
Diapers: 23 assistances
Psychosocial, artistic, and academic development:
450 calls and individual virtual meetings with psychologists and social workers.
15 reading Zoom classes per week
12 virtual dance classes per week
2 creative writing classes per week
What do our students say?
Now I'm locked up and sad... But Enlaces always assigns me a task. Sometimes they ask us to create a story, and sometimes they put us to learn the dance steps that the teacher made. Dancing gives me excitement and joy. (Joseph, 13)
I feel a little weird. I miss school and Enlaces, because I was used to going there everyday (Luis, 12 years old)
I practice every day in the afternoon... Otherwise, I'd feel bored because I couldn't do the challenges they send us. (Stephanie, 13).
I feel a little bad; I'd like to go out, walk, play, go to the park (Camilo, 8 years old)
I'm tired of being locked up. If I go out in the hallway my mom scolds me because it may be dirty. I have a little space, but I move the furniture a little bit and make the space to dance (Claudia, 12 years old).