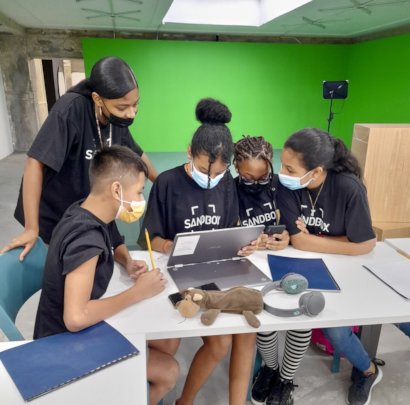 Recently we inaugurated the facilities that will host the Sandbox Program, an ambitious project that aims at the socio-economic integration of adolescents and young people in vulnerable situations, through innovation, technology, STEAMS, and their application in the performing arts.
The Sandbox has 4 physical spaces:
Learning Room: Fully equipped space for the development of the technical curricula of the Sandbox program.
Green Room: Space for audiovisual experimentation, enhanced through green screen technology and professional quality audiovisual equipment.
Maker Space: Space for innovation and creativity, equipped with a 3D printer, a sublimation printing machine, computers with graphic design software and a mini recording studio.
Black Box Theater: Multidisciplinary space for the development and performance of artistic works and creations, as well as for experimentation in performing arts.
Sandbox will reach more than 400 young people through strategic alliances with local partners and public schools. At least 120 of them will participate in job internship programs in creative and cultural industries as part of their formation in the Sandbox program.
We will continue opening doors of opportunity through art, education, and culture. Thank you for your support and trust.
Enlaces Team