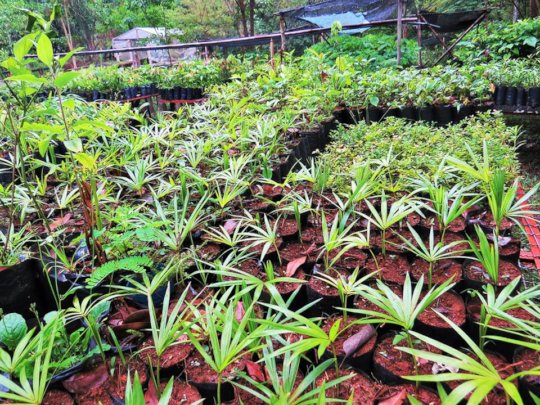 Dear wonderful donors,
First and foremost, we want to send you a big thank you for your unfailingly generous support for this forestry project. Thanks to you we raised over $65,000 in fifteen months, and reached a whole new level of excellence.
Which means that we´re now in a position to do more – far more, and, hopefully, far better.
Backing up a little. When we started planting trees, twenty-something years ago, we did it because we understood that it was the most important thing that we could do.
That was before most people were even dimly aware of climate change.
Now it's very different and it's increasingly obvious that there is no time to waste. And as a member of a coalition of Brazilian organizations dedicated to restoring the Atlantic Forest (Pact for the Restoration of the Atlantic Forest), we take our joint commitment very seriously indeed.
So, since the beginning of 2021, the Iracambi team is pledged to focus exclusively on planting trees and on the education that is an inseparable part of ecosystem restoration. So here is a snapshot of what is going on in preparation for the next planting season, later in the year.
Our forestry coordinator Alfredo is monitoring and maintaining all the young trees that we planted this season. The first few months after planting are crucial to their survival, and Alfredo is determined to ensure that they make it.
Back in the forest nursery, coordinator Deivid is working flat out to expand our capacity, initially from 10,000 to 15,000 seedlings and then to double that. He and his team are building new seedling tables, setting up shade and irrigation, making a new greenhouse cum seed storage area, collecting seeds from the forest and making seedlings for next season´s planting.
In a few weeks time, we´ll be expanding the team with the addition of a new forest technician cum data manager, whose job it will be to collect all the planting data and upload it to our GIS mapping site, (so that our donors can see where the trees are planted, and that we can improve our quality control.) And, in the meantime, the finance team is busy crunching the numbers and completing the budgeting forecast for 2020-2022 planting seasons.
And that´s not to mention the backroom girls and boys who document the planting, write the reports, and make sure that we´re in touch with local community members and responsive to their forestry needs.
So, when the rainy season rolls around in October/November, we´ll be ready to burst into action and start planting 55000 trees. Thirty hectares. Fifty acres. It´s going to involve a lot of people, but we´ll be ready.
Thank you, thank you for supporting us!
with much love and gratitude from the Iracambi Forestry Team