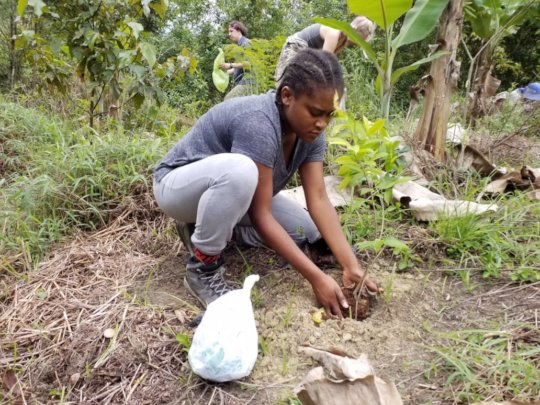 Greetings to you all from the rainforest!
I bet you want to know what's happening in the forest, now that the rains are here?
Let's start with results of the monitoring of the 2018 planting – survival rates of the trees are around nearly 70%. Survival rates vary a lot between different farmers - in some cases nearly 100%, in others considerably less. When we analyzed these results, we came to the conclusion that the greater part of losses was due to lack of maintenance. Not weeding around the seedlings, attacks from leaf-cutting ants, cattle breaking down the fences in the dry season, and so on.
This is a huge challenge! We know that a farmer's life is tough and it's hard for them to take time out from planting, fertilizing and harvesting their crops and devote time to their reforestry areas – where they don't anticipate any financial return.
But the good news is that it's raining hard here – in contrast to the water crisis that we had in 2014 and 2016.
Of course people have very short memories, and forget that during the water crisis they had no water for drinking, cooking and bathing, and they lost a lot of their crops - so we're working hard to help them understand the simple equation: without trees there is no water, and without water there is no life.
It's more than simply a question of springs drying up, it's also a question of agroforestry. We're already doing that by interplanting fruit trees with our native trees, encouraging the farmers to take better care of their reforestry plots, so that they can harvest the fruits for themselves (as well as the birds!)
Agroforestry clearly shows that it's possible to grow food crops in the forest: shade coffee has the advantage of attracting birds and pollinators, helping fix nitrogen in the soil and even producing natural fertilizers. As you know, agroforestry uses organic and natural pesticides, herbicides – but hat conerns us is that we've even seen farmers using glyphosate (Roundup) around their springs.
BEWARE!
Do they have any idea what they are doing? Or what the consequences will be? Things are much more serious than we thought. These chemicals are banned in many countries.
Glyphosate controls weeds and it saves farmers a lot of time, so they love it. What they don't know is that studies show that it can affect food, soils and water, can affect human health and has been linked to cancer, obesity, diabetes, heart problems, infertility, gluten intolerance and more.
So, in addition to reforesting with 50 different species (we want to increase biodiversity!) and in addition to planting new forests and restoring springs, we're also bringing as much information as we can to the farm families who don't have access to facts like these.
Now – are you keen to hear about this year's planting?
Come with us, let's roll up our sleeves and get muddy!
This year our financing comes from YOU, our wonderful supporters who have been with us since 2015. And we're also working with a company in Hong Kong, which is very exciting! So we're extremely grateful to our donors and cannot begin to express how happy we are that you are by our sides doing this amazing work. We hope that some of you may be able to see it for yourselves one day!
Remember I told you we had a reasonable rate of survival and, in the areas that weren't well cared for, we're returning to help out, explaining more about maintenance, about the importance of water, and other environmental questions.
We have a great team working with us, Mateus, Hercules, Deivid the nursery manager, Mauricio, Derli, Fagner (our former nursery manage – remember him?) And these guys have cleared, weeded, dug the holes and fertilized the soil.
And now we come to the exciting part: delivering the seedlings and planting!
It's been raining like crazy so we're planting in the rain. After delivering the seedlings we're adding more fertilizer (cow manure) and getting our hands dirty. Literally!
We look forward to telling you more about the planting, about what we're learning, about the wildlife we've seen, about the farmer's stories, but all this will have to wait for the next report. STAY TUNED!
But, before we go, we have another novelty to tell you. We've made some changes in the nursery. We've enlarged the composting area, we've made a roof over it so it won't get wet and we won't have to use tarpaulins. We've also fixed up the fence – sometimes dogs have been getting in and trampling the seed beds which drives our nursery manager to distraction!
The seedlings are more than 50 cm tall, and very well developed and strong. Deivid has sprayed them with the organic fertilizer we talked about in our last report. We're also moving the seedlings from the tables onto the ground so that can harden off before being planted out. We're watering them less, since once they're planted they'll rely on the rain for watering! This technique has been very successful for producing really healthy seedlings.
So, as you can see, there's a lot going on and we're not stopping here. If it wasn't for you, this project wouldn't exist. So we'd love to ask for your help once again.
Giving Tuesday (December 3rd) brings people together to give something back. Every little gesture helps to change the world. It's a call to action to encourage people to give! Time, energy, cash, whatever you can!
So please join us in saving more forests and changing more lives.
December 3 is the biggest day of the year in terms of solidarity. Please mobilize your family, colleagues and friends to join us! Share, donate, spread the word. If everyone does their bit, we can do MUCH more together!
In twenty years with lots of hard work and lots of help from friends and supporters here's what we've done:
1200 acres of forests protected forever.
12,500 acres of Environmental Protection Areas
130,000 native forest trees planted
650 farm families through our programs
2000 students, researchers and volunteers welcomed from 65 countries
150,000 people impacted in the nine counties of the Serra do Brigadeiro
Between us, with few resources, we've done a LOT! And there's a lot more to do. There's still the question of bauxite mining in the area, threatening the livelihoods of dozens of farm families and the water supply of thousands of people downriver.
Please join us and be a part of this great family of people who fight every day to save more forests and change more lives. May we count on you? .
A great big thank you from all of us for what you've done, what you do, and what we hope you'll continue to do!
And hugs from the Forests 4 Water team – muddy but happy!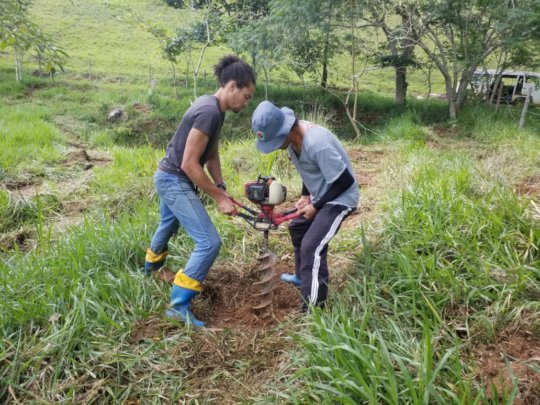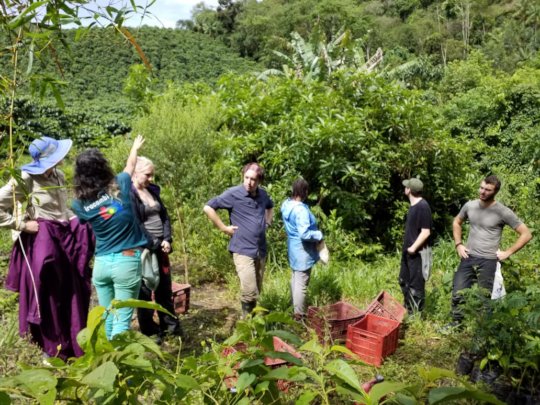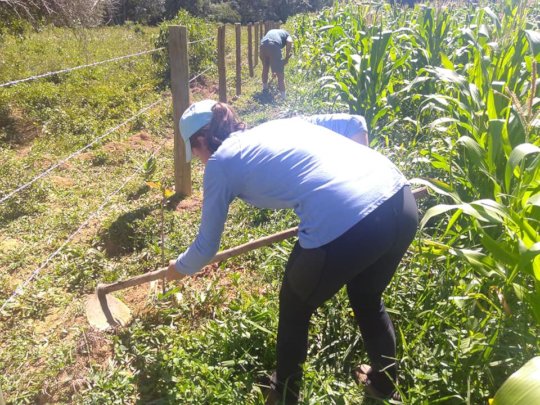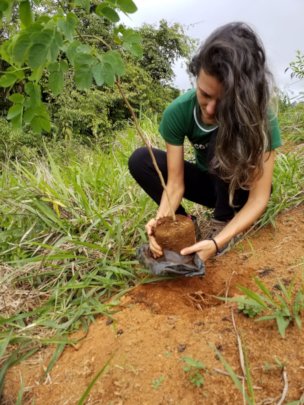 Links: