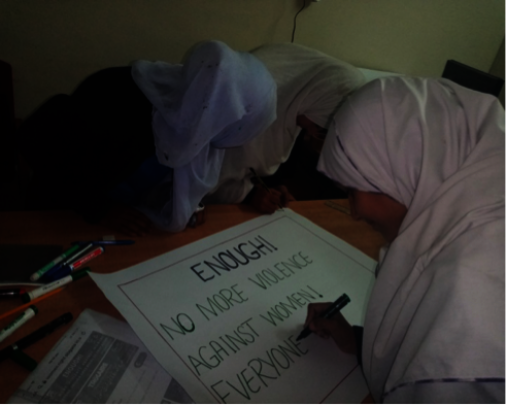 Moqah Foundation is focused on educating girls and empowering women. Communities where child marriages, gender discrimination and poverty prevents many girls from going to school, Moqah Foundation schools have been creating awareness and preparing students and teachers on women's rights. Each year the students and teachers celebrate the day in school, but this year they will be celebrating International Women's Day with the entire community! The students are excitedly working on preparing banners and speeches as the day approaches.
By first week of March, our school term also comes to an end. What an incredible year it has been as we teach and inspire youth to recognize their potential and realize their dreams! All year long, other than school-day learning, students participated in activities like Global Kid Connect Pen Pal Program and workshops like Tolerance and Active Citizenship. We are excitedly waiting to welcome our students back in their new classes by April for the new 2020-2021 session. We have achieved an exciting milestone as our first batch of Grade 10 students as they will be taking the Standardized Tests under Board of Secondary Examination starting this week. We wish them best of luck as this exam determines if they can graduate high school. We will be seeing them soon after their exams -we are offering Enterprise Development Training to our all graduates, providing them tools necessary for future employment and success, the ability to earn an income, and in a majority of cases, delay an early forced marriage. We are sending endless gratitude to all who have joined us in our journey.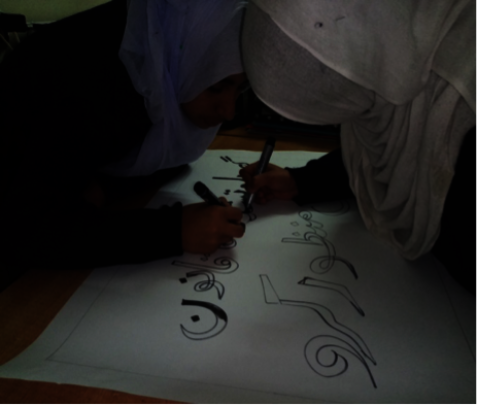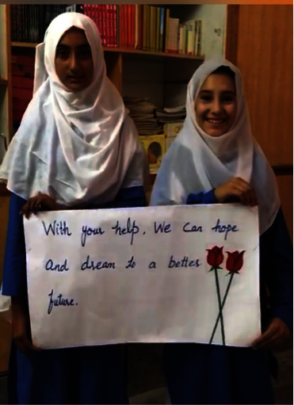 Changing gender biases : a great achievement for Moqah Foundation!
We are two months into the collaboration between Moqah Foundation and Girl Rising. Our students have been attending weekly sessions that has resulted in positive attitudinal change.For example, one of our 9th graders' sibling, Senam, spoke about his two sisters Summaiya and Bushra who have never stepped out of their household other than coming to the school. Women in Senam, Summaya and Bushra's family are mostly illiterate and live under highly traditional and conservative social structure, which is marked by its patriarchal male dominance and religious control.
Now Senam talks about how he wants to help change the world for his sisters and believes that they have the right to determine their destiny. His first step in this direction was convincing his older brother to sign the permission letter for his sisters to join a school trip to another local school's sports day event. It was a life time experience for the two girls!
Regards,
Farida
......................
Farida Ahmad

CEO Field Operations

Moqah Foundation


End Conflict. Build a School
Attachments: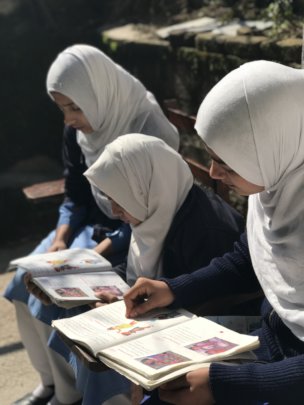 We are so thrilled to start the new school year! Our schools reopened on August 19th with a total of 390 students. We welcomed all the students back with some amazing news on their achievements: we received the standardized national test results back from the 9th grade class and all students passed! These students have all been promoted to Grade 10.
We were also excited to announce to the students that Moqah Foundation is collaborating with Girl Rising on the Explore More program based on Girl Rising's media and educational materials and its new Explore More Toolkit. Girl Rising will provide the multimedia materials and facilitator's guide to enhance Moqah Foundation'sprograms supporting youth empowerment and building gender equity. Girl Rising will conduct a one-day workshop for all teachers who will be implementing the toolkit. Moqah Foundation will engage 38 students (22 girls and 16 boys) from Bhara Kahu branch and 40 students (27 girls and 13 boys) from SKP branch to participate in the program through classroom engagement for the duration of the program (12 weeks).
The Explore More activities and sessions are designed to build a community of trust, help young children explore their inner strengths, be aware of their rights, and transcend the gender stereotypes to realize their dreams and aspirations. We are so appreciative that you have enabled us to be able to expand our support of the youth and help them embark on path towards success!
Thank you so much for your continued support!
WARNING: Javascript is currently disabled or is not available in your browser. GlobalGiving makes extensive use of Javascript and will not function properly with Javascript disabled.
Please enable Javascript
and refresh this page.