INTRODUCTION
Much greetings from Drylands Natural Resource Centre (DNRC) family. We are delighted to share with you our progress report on Moringa to support Kenyan farmer's healthy and wealthy quarterly report. The now 800 small holder farmers continue to benefit from moringa products including moringa leave powder and moringa seeds. Moringa leave powder is being used by the farmers in their food for nutrition and the seeds are sold for income. DNRC is selling Moringa seeds to LUSH Cosmetics Company which is income for the famers. The demand for moringa products is increasing and thus we continue to propagate and increase moringa trees in our farmers farms to increase their income and health. So thanks so much for your continued and long term support to our farmers. The older farmers who have been planting moringa are encouraging the newly recruited farmers to plant and use moringa products for their have benefited from it both financially and healthwise.
During this reporting period, DNRC staff have been mobilising farmers to harvest and collect moringa seeds for the current moringa seed order from LUSH. Also the staff have been busy with individual farmers follow ups on moringa management and preparations to plant more. At DNRC nursery, the staff have been busy propagating more moringa seedlings.
Below are detailed activities during the quarter:
Moringa seeds Collection.
During the reporting quarter, DNRC staff were able to collect 410kg of moringa seeds for the market. It's a busy process as it involves collecting seeds from individual farmer's farms, weighing, drying more and defeathering them. The farmers are paid according to the number of kgs delivered.
Trainings and follow-ups
During this reporting period, DNRC training and outreach officer was busy following up with individual farmers to make sure the manage professionally the existing trees and planting more as it was during rainy season. She also trained them on moringa tree and its benefits.
Tree Nursery
DNRC tree nursery program was busy with a lot of propagation of moringa seedlings for this year's target of 5000 more moringa seedlings. They were also busy with managing the already germinated moringa seedlings in the nursery.
Focus for the next quarter.
Propagating more moringa seedlings.
Sourcing of Moringa seeds and leaves
Trainings and follow ups of DNRC 800 farmers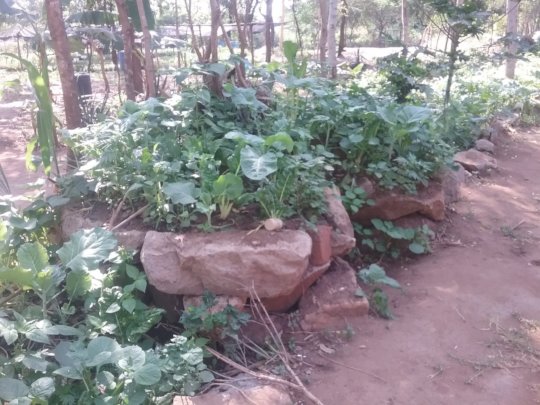 INTRODUCTION Once again receive much greetings from Drylands Natural Resource Centre (DNRC) family. As we share this quarter report, we wish to express our sincere gratitude to you for the continued financial support which has so far contributed to the DNRC success which continue to grow each other day. Our current 800 farmers we are working with continue to benefit from vegetables and fruits coming from both food forests and kitchen gardens we have been promoting among them. A food forest is a food production and agro forestry system based on woodland ecosystem incorporating fruits trees, nut trees, shrubs, vines, vegetables, perennials for timber and other non-timber products. By understanding how natural forests grow and sustain themselves, we are able to model our food forests filled with trees and plants that produce food, timber and other non-timber products for income generation. These fruit trees have been propagated in our tree nursery and the first's ones are already producing fruits like pawpaw, passion fruits, guavas, mulberry etc. Out farmers now are testifying reduced family expense on buying foods and fruits due to the ones they get from both food forests and gardens. DNRC staff, interns and visitors continue to enjoy diverse vegetables in their meals. This has as well reduced food expense for DNRC as we move towards self-sustainability. During the reporting quarter, the following activities took place: Planting and establishing more kitchen gardens at DNRC, gapping DNRC food forest as well as expanding. Below are detailed activities during the reporting quarter: DNRC Food forest During the reporting quarter, the major activities included expansion of the food forest which include hole preparation and planting, weeding and managing the trees in the food forest through chop and drop. We also managed to harvest 14.1kgs of bananas from DNRC food forest. DNRC kitchen gardens During the reporting quarter, we were busy establishing and planting more gardens with diverse vegetables including but not limited to Garlic, coriander, rosemary, spinach, kales, egg plants, traditional vegetables black night shade and amaranths. We have used different designs to develop our gardens with water saving methods recommended which included sunken beds with heavy mulching, key holes and multi-storey gardens. Other activities included constant spraying of natural concoctions for pests and disease control, wedding and watering. Challenges Water is always a big challenge since we have no permanent source of water within DNRC. Focus for the next Quarter General maintenance of both the food forest and kitchen gardens. Constant trainings and follow ups with farmer's kitchen gardens and food forests.
Introduction
Greetings from Drylands Natural Resource Centre family. We are happy to once again share our quarterly progress report. We sincerely thank you for your continued financial support. The 700 small holder farmers we work with and the 12 schools continue to experience progressive impact of diverse indigenous tree planting for the last 10 years. Soils have been reclaimed in the forested areas and moisture content in the soils has improved given that the soils are fertile as well as covered. This gives hope for increased crop production. Farmers continue to enjoy sustainable firewood supply for domestic use as well as charcoal thus saving a lot from charcoal buying and contributing to other developments at house hold level. The joy of seeing this success has pulled the community together and they continue to see the sense of planting more and more trees year in year, out.
During the reporting quarter, the following activities took place: Propagation of different tree seedlings, moving pots to the new nursery site, potting, weeding, farmer's trainings and follow ups.
Below are detailed Activities during the quarter.
DNRC Tree Nursery
During the reporting quarter, the tree nursery personnel was busy sowing and transplanting the following: Senna semea, Senna spectabilis, Acacia xanthopolea, Acacia polyacantha, Gmelina Aborea, gravellia Robusta, Ecalyptus Camandulenses, Mangoes. Other activities in the nursery included: potting, weeding and watering.
Training and Outreach
During the reporting quarter, The outreach personnel was actively involved in the following activities: 8 groups out of the current 14 groups were trained in hole preparation in the fields as this need was observed from the previous tree planting season. Another training was on pruning both theory and practical's at household level were by 10 farmers were helped to prune their woodlots. Two schools have been visited during the reporting quarter and necessary recommendations given.
Challenges
Scarcity of water and the failing of March –April rains.
Next Quarter Focus
Trainings of our newly recruited farmers
Farm preparations
Propagating more tree seedlings
General tree nursery management
WARNING: Javascript is currently disabled or is not available in your browser. GlobalGiving makes extensive use of Javascript and will not function properly with Javascript disabled.
Please enable Javascript
and refresh this page.