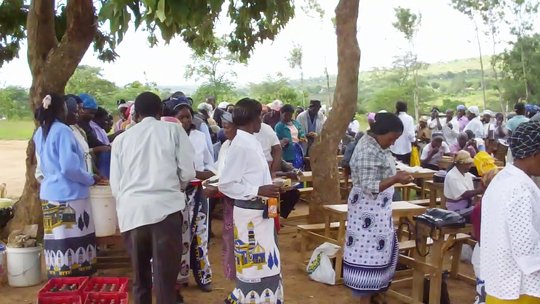 It's been three months since our last report, when the rainy season in Makueni District was just beginning. The most important news is that the rains this season have been very generous, which is wonderful for our project and for all families in the surrounding area.
While the rains have been falling, we've continued to strengthen bonds between the DNRC, participating farmers and the surrounding community, while improving our education programs and expanding our capacity to grow in 2012. We're set to double our client base this year, and hope to raise an additional $3,000 to build our first office.
In December, we held a Christmas Party for DNRC farmers and community members. About 170 people came, enjoying two goats, chapati and sodas. Afterwards, Nicholas led a training meeting and people toured the woodlot of Lucas Munyao. The party was a huge success in terms of bringing people closer together and demonstrating the growth of the project to all involved. Everyone's already looking forward to our next party in June. Please see the pictures from the party below.
We also hired our third fulltime paid employee, Triza Mbinya Mutua, who is studying for a degree in Community Development at Daystar University in Nairobi. She will be responsible for administration and accounting, supporting project coordinator Daniel Mwenda, Nursery Manager Lucas Munyao and CEO Nicholas Syano as they plant saplings, train farmers and build relationships with the surrounding community.
In January, Nicholas Syano took 3 weeks leave from his other job to focus on training our new employees, meeting new client farmers, and improving our education curriculum. He also established a site, design and budget for the DNRC's first office, which would provide us with storage for equipment, seeds and files, as well as a central hub for interaction with the community.
We now have in place the team and the plan we need to expand in 2012. We aim to add an additional 100-150 farmers this year, bringing our total client base to 250-300 farmers by year end. We already have five separate geographic farmer groups, who Daniel Mwenda trains separately once a month. We plan to deepen our reach, rather than expand it, recruiting as many additional farmers as possible from within these five geographies before moving on to new villages. This will help keep costs down, and has many spillover microclimate benefits.
We also aim to raise $2,500 in additional funds to build our first office. We're looking to you, our many supporters, to assist us in this effort. Of course, any donations would be much appreciated. But in addition to that, we want your ideas and your energy! Please spread the word about the project to friends, family and other potential donors. If you have fundraising ideas, suggestions for grants we should apply for, or would like to host a fundraising drive in your community, please get in touch. We would love to hear from you.