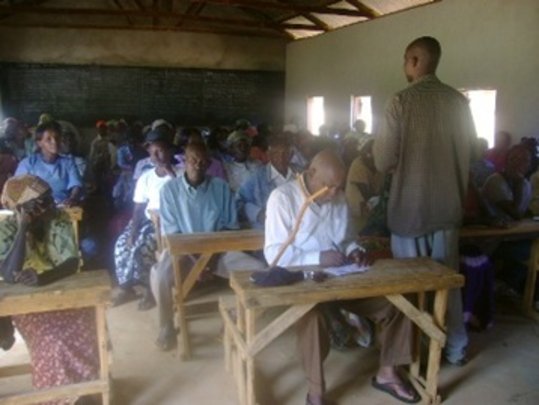 DRYLAND NATURAL RESOURCES CENTRE (DNRC) JANUARY-MARCH 2012 QUARTERLY REPORT
Activities Conducted During The Quarter
During January-March 2012, the DNRC planned and executed the following activities:
Tree Nursery
The 2012 annual work plan is to propagate 35,000-40,000 tree saplings of at least 15 different species. This quarter, we aimed to propagate at least 10,000 saplings, but water shortages during the Feb-March dry spell constrained us. We were still able to propagate 6,865 tree saplings, and are confident we can cover the deficit by planning 13,000 saplings in Q2 2012. To take advantage of the late-March to May rainy season, which has provided above-average rainfall, we expanded the nursery, purchased a donkey to carry water, and increased the number of part-time laborers we have working the nursery.
Training
So far, DNRC is working with 5 groups in 5 areas (Maiuni, Kyooni, Ivumbu, Kalimani, and Kivani). According to the work plan, each group is scheduled to receive one formal training session per month. During the quarter, 15 trainings were conducted by the Project Coordinator, Daniel Mwenda, with assistance from Executive Director Nicholas Syano. Nicholas explained how and why planting trees is a foundation for poverty eradication, and Mwenda discussed the details of pruning, establishing proper tree planting holes, live mulching and using nitrogen-fixing plants to improve soil fertility. In total, 234 farmers received this training. Our 27 new recruits also received an additional training welcoming them to the DNRC program.
Woodlot Establishment and Follow-Up
There were no trees planted in this quarter, because it was a dry spell. (Trees are issued and planted just before or during the April and December rains.) In Q1 we focused on visiting farmers at their properties to monitor progress and provide technical guidance and motivation as they manage trees they have already planted. During the quarter, DNRC staff visited 171 farmers, collecting baseline data to help track tree growth, health, and survival rates.
Farmer Recruitment
Our target is to recruit 100 more farmers this year to achieve a total of 307 farmers by the end of this year. We began the quarter with 207 farmers, and recruited 27 more over the quarter, putting us on track to achieve this target. Every indication suggests that as long as we continue to effectively implement the project, we will attract more than enough new recruits.
Water Harvesting
We received a donation of 3 cisterns which were installed by the whole group working together. This is unplanned activity and happens only when we get a cistern donated. It's about $1200 for a 10,000 litre cistern, to buy, transport and put the fittings and gutters. It's an activity that strengthens the community's social fabric, as everyone comes together to install the cistern and also share the water with those without. The cisterns are given to those with the best woodlots. By the end of this quarter 15 families had benefited (15 cisterns were given out, one to each family). Those who have benefited contribute monthly to a fund that will contribute to purchasing more cisterns for more people. The beneficiaries during this quarter were Beatrice David, Wanza Muoki and Elizabeth Mwende.
Conclusion
The first three months of the year are the driest and most difficult for the families who live in the community we serve. Despite this, we were able to expand and improve our services and attract new recruits, and after April and May rains are back on track to meet our annual targets for seed propagation, training, and recruitment. Thanks to its hard-working staff, the strength and commitment of participant farmers, and the support of its donors, the DNRC is positively changing the lives of the people of Maiuni and demonstrating how to conduct poverty alleviation projects in drylands areas. Examples of practical methods that work in drylands are lacking, and therefore these marginalized habitats continue to suffer from extreme poverty and social exclusion. By experimenting and establishing best practices that work in the drylands of Maiuni, we are building a strong base for sustainable dryland development models that can be duplicated in other drylands regions. We look forward to continued steady growth in the second and third quarters of 2012. On-the-ground operations and recruitment are running well; the biggest risk we face right now is failing to reach our 2012 fundraising goals. This will be our main focus of our US-based staff this summer.