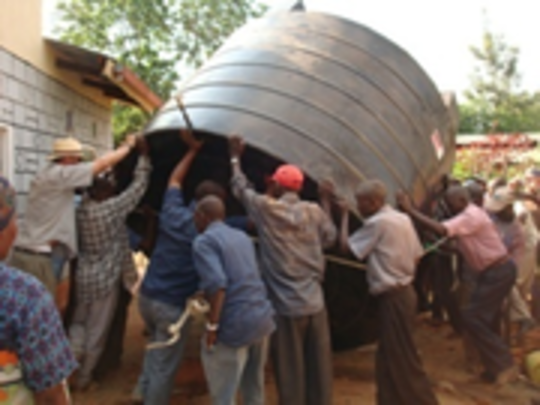 Project overview: 33 cisterns providing 476 people with clean water
In this report, we'd like to share the progress and results of a complementary clean water side-project that the DNRC has built up over the last few years with committed and generous partners based in Wisconsin. Using plastic water cisterns, hundreds of the families we serve in Mauni now enjoy a secure, long-term source of clean, safe water.
In September 2010, Wisconsin Rapids Sunrise Rotary donated the first 10,000 liter cistern, for Nicholas Syano and the DNRC to use in Mauni. Joanne Marshall, Sue Siewert, Gary Dreier and Kathy Schommer first introduced us to the Sunrise Rotary Club, and we continue to work together.
By the end of August 2013, 33 cisterns had been installed for 33 families in the community, directly benefiting 576 members of the Mauni community (79 women, 74 men, and 433 children.)
The following partners have come on board and are committed to expanding this program: Center for Community Regeneration (CCR), Wisconsin Rapids Sunrise Rotary Club, Wisconsin Rapids Noon Rotary Club, Greater Portage Rotary Club, Green Bay Rotary Club, the University of Wisconsin Stevens-Point Permaculture group (led by John Sheffy and Dr Holly), and the Denver Company Pharmacy Group.
Project goals: 1) Provide clean, plentiful water for every family; 2) Reduce deforestation and reinforce the DNRC reforestation program
This project aims to establish a rainwater harvesting system for every family in Maiuni, to provide residents with water for drinking, cooking, and garden use, and to reduce firewood consumption for boiling water. Gutters are installed around the roof of each house and a 10,000 litre cistern is put in place to catch rain water. (See picture below).
The whole community is involved in installing the cistern by bringing gravel, sand, and water and physically helping to build the cistern base and installation. Involving the whole community creates a sense of community and ownership.
To ensure transparency and fairness in how each new cistern is distributed, the names of DNRC program participants with well-cultivated woodlots are put in a hat, and a child draws a name at random. This encourages people to continue planting and properly cultivating trees.
Project impact: proven economic, environmental, health, and social benefits
Below is the river just after the rains. 200 families without cisterns rely on this single river for all of their drinking, cooking, and cleaning needs. They must walk long distances to bring water home; the water itself is not safe to drink. People must burn scarce firewood to make the water potable. When people don't have firewood to boil water with, they drink the water directly. As a result, cases of typhoid and other water-borne illnesses are far too common.
Those with cisterns have fresh clean water just by their door step and don't have to spend their valuable time walking long distance to fetch water. They also don't have to resort to burning scarce reserves of firewood to boil unsafe water. For those with cisterns, no cases of water-borne illness have been recorded.
The cisterns renforce the DNRC's reforestation and agroforestry program in two ways: 1) reduce the time and labour burden on families', who can spend more time and effort on farming, working, studying, or other activities; 2) reducing the need to burn firewood, which undermines the sustainable forestry pratices our partner families are learning.
With each donated cistern the community installs together, the sense of community solidarity and trust grows. As more members in the community plant trees and grasses, seasonal rivers become permanent and springs will return, ensuring more water for the whole community. The community will have more trees to sustainably harvest for products such as timber, green charcoal, and food, increasing their income. Feedback loops are being diverted from negative to positive. A community is being regenerated, in ways that we think are replicable to communities around the world.