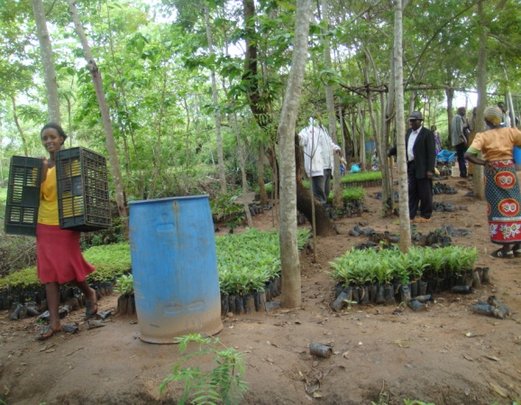 Dear Supporters,
Thank you for your continuing support of the DNRC.
Thanks to your donations, we have thrived as an organization, and met our original goal of helping 400 farmers living in poverty in semi-arid Kenya to learn and apply agroforestry techniques. These farmers are now using drought-resistant trees to improve the health of their soils and the productivity of their land.
Also thanks to your support, we are now $2,624 short of achieving our original $25,000 fundraising goal, and only $1,624 away from becoming one of GlobalGiving's "Superstar" projects. By becoming a Superstar project, we will gain priority ranking on GlobalGiving and become eligible for new fundraising opportunitines.
Please help us raise the last $1,600 we need to become a Superstar project by setting up a small monthly recurring donation before the end of the year. Monthly recurring donations will be matched 100% by GlobalGiving until the end of 2014.
Thank you again for your support so far, and please enjoy our update on our work this quarter in the report below.
Quarterly report
In the final three months of 2014, the DNRC distributed a record number of tree seedlings (over 40,000) to eleven village community groups, three schools, and 439 farmers. We also helped each of those 429 farmers prepare their land for agroforestry and tree planting, held social gatherings to strengthen the bonds within and across each of the eleven community groups, and established a kitchen garden at the office to feed visitors and staff and use as a demonstration tool for the local community.
Tree seedling production and distribution
The total tree seedlings in the nursery before issuance during the Oct-Dec rains was 51,265 seedlings. During the rainy season, 40,864 seedlings were issued to 11 village groups:
Maiuni: 9,541 seedlings to 82 farmers
Kimandi: 4,550 seedlings to 57 farmers
Ivumbu: 2,990 seedlings to 33 farmers
Kyooni: 3,920 seedlings to 46 farmers
Kitandini: 865 seedlings to 20 farmers
Usalala: 2,128 seedlings to 27 farmers
Yiimbani: 1,920 seedlings to 19 farmers
Nduuni: 4,160 seedlings to 28 farmers
Kalimani: 2,855 seedlings to 40 farmers
Kivani: 3,315 seedlings to 38 farmers
Iviani: 4,220 seedlings to 39 farmers
The following nearby schools were also given the following seedlings.
Maiuni Primary School (100 seedlings),
Lung'u Secondary School (150)
Muthwani Secondary School (150).
The remaining seedlings are being sold on the open market to generate revenue for the DNRC.
Farmer outreach and training
During the quarter, most of the activities under the outreach program were to train farmers, provide support as needed, and then confirm that farmers dug holes properly, and in the right placement, before the rains arrived. We visited 429 farmers multiple times. Each was provided with tree seedlings according to the number of holes dug.
Strengthening bonds within and across community groups
Every year we have the farmers coming together for a party whose aim is to strengthen social fabric within and across each of the eleven communities we serve, through eating, singing, sharing experiences of tree planting, socializing and supporting each other.
This year the party took place on 11th Dec 2014. The party involved a lot of food including slaughtering 3 goats, chapattis and soft drinks. Also a lot of singing and dancing as the farmers celebrated their achievements.
The kitchen garden
We have established kitchen garden in the office to provide vegetables for our staff/visitors meals.
Different vegetables grown next to the office in our new kitchen garden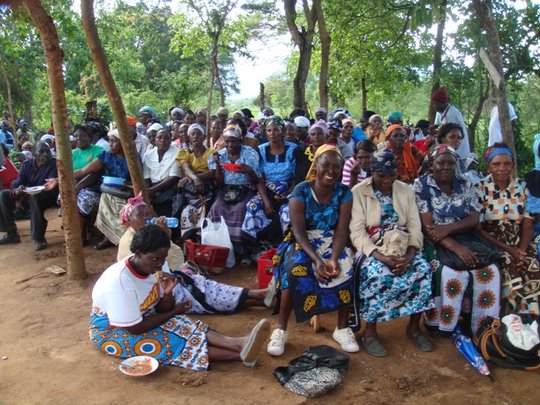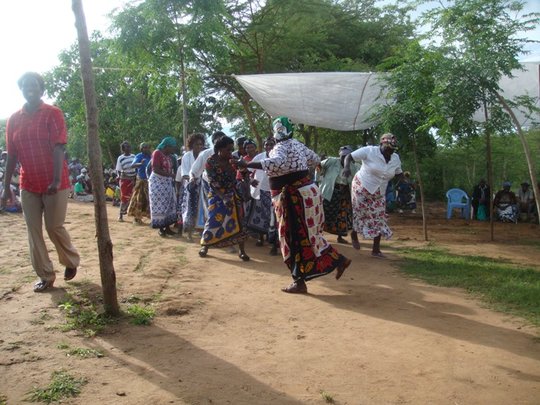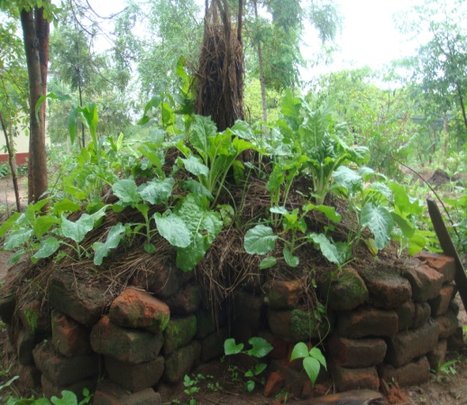 Links: