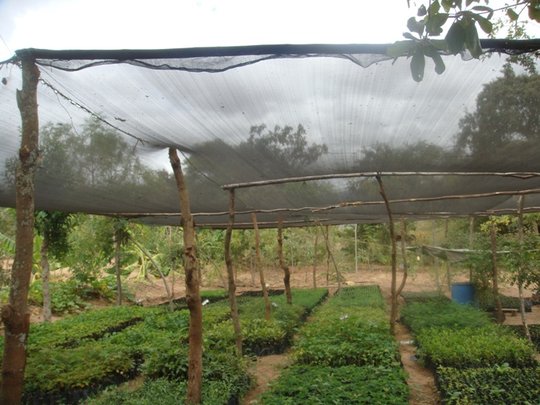 Thank you for your continuing support of the DNRC
Your continuous and generous donations are enabling us to support 430 farmers in taking care of their fragile dryland environment by planting over 40,000 different tree seedlings every year.
These trees are growing, and within ten years each tree is ready for harvesting for firewood, timber and timber products, fruits, herbs, fodder for animals, etc. As they plant trees together as a group and through group trainings and filed visits, the social fabric of the communities we serve is being strengthened. This approach you're funding is continuously creating a sustainable community by delivering on core aims of sustainable development: environmental protection, economical viability and social wellbeing. By measuring the impact and documenting what is working and not, we hope eventually to replicate this model to other similar drylands environment in Kenya and other parts of east Africa.
So we say Asante Sana (thank you so much)!
The following are the activities which took place during the first quarter of 2015:
Tree Nursery program
The target for this year is to propagate 55,000 tree seedlings in our nursery which has been moved to our offices. During the last 3 months, 11,290 different trees have already been propagated and are being managed in the nursery.
The challenge we are facing in the tree nursery is inadequate water supply because we don't have a well on site. We use donkeys to fetch the water from a nearby river (which is seasonal). We are considering more permanent solutions, such as digging a shallow well on site.
Farmer's training/outreach program
During the quarter, the DNRC training and outreach staff continued to train, field visit, and follow up with the 430 farmers. Majorly, the farmers were trained on tree management, food forest establishment and importance of trees. One farmer was recruited making a total of 430 farmers. This is the number we want to work with during this year.
Also during this quarter, Fedelis Nzisa Charles (training/outreach officer) attended a training as from 21st- 30th Jan 2015. The training focused on introduction to permaculture and its implementation in schools. Since we are working with 3 schools in establishing food forests for environmental conservation and food security, this knowledge is useful for our work.
The challenge being faced by our farmers is dry weather which is causing about 10% of the small tree seedlings to dry. We are addressing this problem by adopting water conservation techniques such as water micro catchments, cover crops, and tree holes treated with biochar to retain water.
During this quarter, the office work was mainly preparing both narrative and financial report for NGO council annual returns. Other activities included staff meetings and briefings.
Focus for next quarter
Continue to propagate more tree seedlings to meet our target
Train farmers on introduction to permaculture
Plan for June bi-annual farmer's party