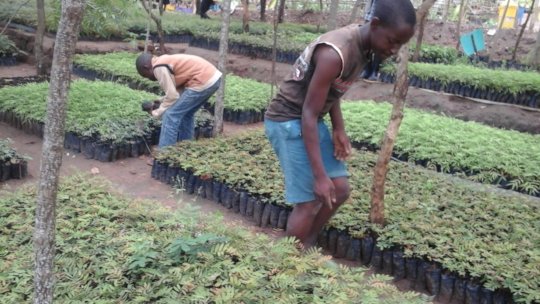 INTRODUCTION
Receive Christmas greetings from DNRC family. We hope that you're health and in good spirits during this festive season. As we come to the end of the year, we say thank you so much for your generous and continued financial support through global giving to this project. We must say we had a very successful year. Thanks for your support and our dedicated staff. As climate change continue to bite and the earth becomes warmer, dryland strategies of increasing production while at the same time adapting and mitigating to climate change are urgently needed. Food forest is one of these highly sought strategies as its food production and agro forestry system-based on woodland ecosystem incorporating fruits trees, nut trees, shrubs, vines vegetables, perennials.
We are happy to share this progress on nutrition through food forest and gardens. This quarter we were busy managing the food tree seedlings in the nursery, existing food forests and issuance of the seedlings during this October-December rains. Below are detailed activities accomplished during the reporting quarter.
Propagation and maintenance of food forest seedlings in the nursery.
During the quarter, a total of 10,400 tree seedlings were propagated in the DNRC main tree nursery specifically for food forests. These seedlings included but not limited to: Guavas, citrus, mangoes, pawpaws, tamarindus indica, tree tomato, mulberry, avocados, zyzium and vitex payos. Other key activities in the nursery during the quarter included fetching water and watering the seedling and general maintenance of the seedlings in the nursery. (See attached picture of trees in the nursery)
Issuance of seedlings
During this reporting quarter, we issued over 80,000 seedling which some were planted in food forests and woodlots. The rains came early and the farmers were advised to come and pick the seedlings once there was enough moisture for the seedlings to start. DNRC works with 13 groups so each group was allocated the day to pick the seedlings. (see attached farmers picking seedlings)
DNRC food forest
DNRC demo. Food forest continue to mature and we continue to harvest some fruits such as passion, pawpaw and tubers such a cassava and sweet potatoes.
Challenges
The main DNRC challenge which is yet to be resolved permanently is water. There is need for sustainable water source as s the nearby river dry's shortly after the rains and we have to scoop the sand to fetch water for nursery.
Focus for the next quarter
To continue expanding the food forest by planting more food trees.
To continue training farmers and recruiting more to tree planting and food forest establishment project.