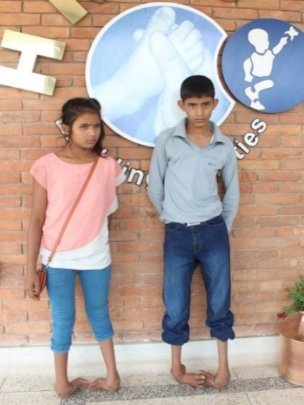 A couple, farmers from the Far West in Nepal, felt blessed when they gave birth to a healthy baby boy. But as their son, Amit, grew, both of his feet bent inward with clubfoot. A year later, they had a daughter named Ajita. Unfortunately, they soon realized she had the same condition as her brother.
In Nepal, it is commonly believed that a person's karma (sum of good and bad deeds) from past lives contributes to their current fortunes and misfortunes. After giving birth to two children with bilateral clubfoot, the couple felt cursed. The family also faced stigma in their community, from neighbors who believed their children's disabilities were their fault for previous misdeeds.
As they got older, it became difficult for Amit and Ajita to walk and do their daily activities. But their family is poor and could not afford treatment. Eventually they came to accept the condition as their destiny – until the Hospital and Rehabilitation Center for Disabled Children (HRDC) came into their lives.
The family went to a screening camp held nearby by HRDC, and the siblings were referred to the main HRDC hospital just outside Kathmandu for treatment – an opportunity that changed their fate forever.
At HRDC, they were treated with skill and compassion. After four months of surgery, recovery, and physical therapy, Amit and Ajita could walk – and even run – easily and without pain. The "curse" was broken, it was like a dream come true.
Now back home in the Far West, the siblings will receive regular follow up visits from a local health worker to help with their physical therapy exercises and make sure there are not any complications. Their family is so grateful to HRDC for treating both the physical disability caused by clubfoot and helping to heal the emotional pain of being shunned by their community.
HRDC's philosophy is based on the idea of treating the whole child, addressing emotional and social suffering alongside the physical. They work with patients, their families, and community leaders to make spaces more accessible, raise awareness about disabilities, and try to end exclusion and discrimination.
Through their nationwide network, health camps, and special events HRDC is reaching more communities and children in need every year. Regardless of caste, ethnicity, or their family's financial situation, every child who comes to HRDC is treated equally – and they leave happier and healthier. This life-changing work is only possible because of your help.
Thank you for helping Nepal's most disadvantaged children feel the joy of learning to walk, being able to go to school, and seeing a future full of new possibilities. We are very grateful to you for opening up your heart to these kids in need.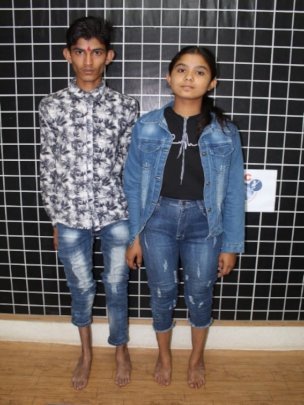 Links: