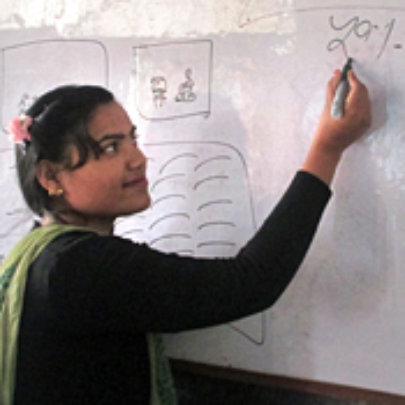 One of the most amazing results of our STOP Girl Trafficking project is Aruna's army of STOP Girl Trafficking graduates! Young women once at risk of being trafficked are now role models. And they're helping other girls, not only in the classroom, but empowering them to stand up to pressures that would take them out of school—because education is their best hope to change their fate. These are their success stories, in their own [translated] words.
Bimala
Namaste! I am Bimala from Banke, Nepal. I am a STOP Girl Trafficking [SGT] alumnae and a support teacher at Shree Nepal Rastriya Secondary School for the last two years. This is my success story.
Raniyapur is a predominantly Muslim settlement. Very few girls from the community go to school and instead have to work at home.
Rehenuma is in Grade 9, has been receiving help from SGT since Grade 6, and is very good at her studies. Nurelni is a student in Grade 12 at the same school. She too has been receiving SGT scholarship since Grade 7 and is a good student. Recently the parents of these 2 girls started saying that now their daughters are grown up, they don't need to go to school anymore and want to marry them off. They stopped the girls from going and made them do household chores.
As an SGT supporting teacher, I went to the girls' houses and talked to their guardians. After a long discussion, the brothers of the girls said that now that the girls are grown up, there is no use in educating them because they have to marry soon.
A few days later, I went to the girls' houses again, with Ganesh Prasad Bhattarai from the RHEST office [our SGT partner]. We reasoned that the girls are getting scholarship from SGT to complete high school; they are of school-going age and not old enough to get married. We explained the benefits of getting educated vs. getting married at an early age. Since both girls are hard-working students and doing well at school, the guardians agreed to let them attend through final exams. After two months of relentless effort, we were successful in bringing both girls back to school. I became really motivated after this accomplishment and wanted to do more.
Khusnuma is in Grade 8, at the same school. Her guardians said that she is now grown up and kept her at home. Again, I went to her house and explained how the girls from Raniyapur are now back in school and that Khusnuma is even younger than them. I told them that Khusnuma should at least finish her exams, and then she can decide what is right or wrong for herself. After a long interaction with the guardians, they agreed to send Khusnuma back to school.
Similar is the case of Anisha, who has been in SGT since Grade 6. By Grade 9 her brother said now she is grown up and ready to be married, and took her out of school. I went to see her guardians and asked the reason for not sending her to school. After a long discussion, her guardians agreed to send her back. We also arranged for her to have extra tuition classes to make up for the three or four months of schooling she lost.
Thus these four girls, who had quit school and were staying at home, have now managed to rejoin school. SGT has helped thousands of students to join school and I am also among the thousands. Now I have become someone capable and have made an effort to ensure that girls don't get deprived of education. I would like to thank SGT, my family and the school for my success.