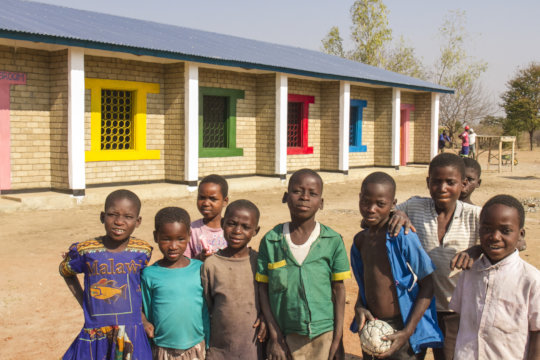 The Mlambe Project Update on Nankhono School
Dear Friends of The Mlambe Project,
ZIKOMO ZIKOMO! We thank you for your generosity so far.
The Nankhono School building Project is coming along nicely, we completed our first build at the end of August which is a huge upgrade on them learning under trees. Through the first set of donations we were able to build a school block that accommodates 120 children. We trialled a new building technique, called SSB, which is made of compressed earth, which is ecological and saves us from having to cut down trees in order to kiln bricks. The technique is incredible.
Each brick is pressed individually in this giant hand press, which is a mix of setting solution, earth, clay and sand.
We also built a brick hut so we can carry on building bricks through the rainy season, which means we will be able to keep prepping new buildings over winter! Ready to carry on building in March.
The first block has delighted the entire community.
The project has delighted the families, children, teachers and the villagers immensely, and we have received official thanks from Chief Boxi. We would especially like to thank the May-Millers, and Michael McGowan who made this building possible.
Now this is completed, we have been able to start on an identical school building (just a tiny bit smaller) funded by Global Giving, that will still have a capacity for 120 children.
Here is the progress of the build you funded in pictures! (Attached)
This school block has gone up a lot faster, as our building team have got so proficient at building we have been able to get it up in record time so far!
We are now working on the roof !
However, we need your help. One of our donors, who had pledged to finish the school has changed his mind and decided to direct his funds towards one of our other projects, which means that we don't have enough funding to finish the roof before the rainy season starts!
Can you help us by making an additional donation, big or small to help us put a roof on before the rains come! Donate now on Global GivingIf you would rather donate in GBP, you can also visit our Justgiving Page at https://www.justgiving.com/mllambeproject*
How did we get here?
We usually raise everything for a school building before it is built- but this time, one of our donors, who has a long term relationship with the charity, after pledging to the school decided to build a bore hole in one of the other villages we serve, Mlambe, and donate funds to the infant feeding programme. Then,one of our other committed donors to the project has had some delays getting a grant they have been raising for us. Therefore we need to urgently raise £5000.
We have over 101 donors through Global Giving now, so if you each gave us a donation of £50.00, we could reach our goal in no time! If this is too much for you though, we totally understand. Any donation, big or small would make a mightily huge difference. Don't forget to Gift Aid your donation at the checkout and this will add an extra 25% on to your donation.
Another way you can support the charity is by setting up a regular donation.
Finally, whether you can give again, or not, we want to say a huge ZIKOMO from all of us here at The Mlambe Project for your incredible contributions making our project a reality!
Thank you so much, from the bottom of our hearts, for this incredible contribution, and each and every one of you who have made this collective effort. In the words of Margaret Mead, "Don't think that a small group of committed minded citizens can't change the world, because it is the only thing that ever does!"
If you are interested in learning anything about our project, we are always happy to answer any questions, and can help you maximise your donation through us. Through the direct impact of your donation, we have been able to raise the school leaving age at this school to thirteen!
We are sending our very best wishes, and deepest gratitude for your support.
Anna Day FRSA and all the team at The Mlambe Project
Chief Executive
The Mlambe Project
+447733305042 email anna@themlambeproject.org
*We know the JustGiving page has a spello, it is actually a mistake in the way they set it up, we are working to change this.