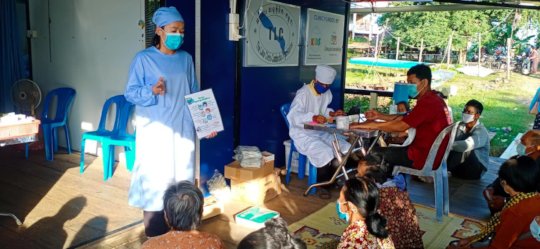 Since COVID-19 became a global pandemic in March 2019, day to day life at The Lake Clinic has become much different.
The Lake Clinic - Cambodia temporarily suspended services from March 23 - April 30 in order to prevent staff members from unknowingly carrying and spreading the COVID-19 virus to the eight villages TLC serves. With the village locations being some of the most isolated and remote in the country, the biggest risk factor for being exposed to the virus was TLC's team coming and going to Siem Reap each week.
As of Monday, May 4th operations resumed at 50%, with only one team going each week instead of two, and will alternate between the lake and the river. This decision was reached after monitoring the number of cases in Cambodia and the spread after Khmer New Year. A decision for each week of service will be made
the week prior in order to make the best decisions on whether to roll out full service or suspend again.
We adjusted our budget to reflect our half schedule until we reopened at 100% in July, and used only 50% of what was budgeted for staff salaries and transportation. However, there were many expenses that are constant. For example, pharamaceutical costs are remaining at 100% as we are providing uninterrupted supplies for our chronic patients regardless of our physical presence.
TLC has seen a shift in funding for 2020 as many funders have changed their priorities this year to fund communities closer to home and/or directly funding COVID-19 work in hospitals. Many funders have also decreased their grant contribution in order to fund more projects. The Lake Clinic has seen almost $100,000 in expected funding lost due to the coronavirus pandemic.
While the team was not physically in the villages the doctors moved into telemedicine and provided phone consults to an average of 20 patients a week throughout the suspension.
Patients that we have been treating are a mix of all ages, and many were calling with symptoms of dehydration and malnutrition. We saw an increase of patients when in-person service began, as many people were worried about the virus and many chronic care patients needed to check in with their doctor. Additionally, with more people returning home from their factory and construction work in Thailand we saw an increase in all manner of social and medical problems, particularly malnutrition and an exacerbation of already endemic illnesses a result. This is because there are more people in the home and those who are no longer working are not sending money to the families on the lake.
The doctors who provided telemedicine did not report any cases of suspected COVID-19 or had patients reporting symptoms of the virus.
Beyond healthcare, our Outreach team is working to provide education on the virus and how to protect yourself by washing your hands regularly and adhering to social distancing. The team handed out over 1,000 bars of soap in the week leading up to service suspension and left quantities with the village chiefs in each village in order to be sure that families had access while TLC was away. The team is also providing education around how the virus is and is not spread as there is misinformation rampant in Cambodia currently.
TLC remains the only source of professional healthcare available in these communities now and into the future. While COVID-19 has presented unprecendented new challenges, our work will continue to be on the front line of surveillance and early intervention of this virus.