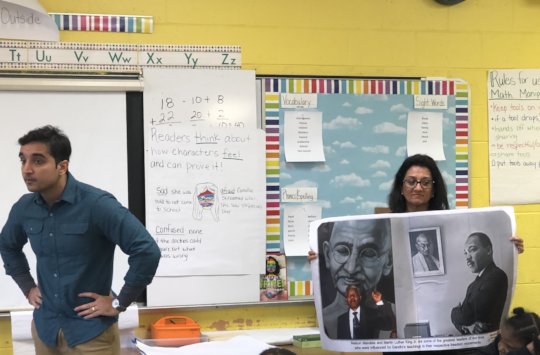 Gandhi Peace Project Report
December 8, 2019
The National Indo-American Museum is incredibly grateful to the Global Giving Foundation and to our donors for supporting the Gandhi Peace Project, a program provided by NIAM designed to teach Chicago's school children about Gandhi's peace and nonviolence practices. The goal of the Gandhi Peace Project is to encourage young minds to learn through a holistic experience using stories, discussion, demos, creative art and simulations, thereby ensuring a truly sustainable learning.
The Gandhi Peace Project is going in full swing! On October 1, 2019, the National Indo-American Museum launched the inaugural session of the Gandhi Peace Project at Holy Ministry School in Chicago, Illinois, where we worked 24 students all in 3rd grade. Our instructor began the presentation by telling the students Gandhi's story using posters with historical images of Gandhi to help illustrate his life. To help bring Gandhi to life, our staff chose a student who he transformed into Gandhi by wrapping a dhoti around the student and letting the student wear a pair of spectacles and stand with a walking stick similar to how Gandhi is depicted in his many iconic images. The students then engaged in a meditation exercise based on Kriya Yoga, which was Gandhi's preferred method of peaceful practice and meditation. This form of meditation is focused on energy of the spine, and our instructor taught the students to focus on their breathing by inhaling for three seconds, holding their breath for four seconds, and exhaling for five seconds. This meditation session, which began and ended with a gong sound, brought an amazing level of tranquility and focus to the classroom. The students then channeled their newly discovered focus into a worksheet where they chose one of Gandhi's famous quotes, as provided by our instructor, wrote a statement as to how the quote resonated with them, and engaged in a drawing exercise that illustrated their own interpretation of peace. Our instructor closed the session with a lively discussion with the students that gave the students a more complete understanding of both Gandhi and the impact of Indian Americans on their community.
In the month of November, NIAM presented another thirteen sessions of the Gandhi Peace Project at Randolph Elementary School and Eberhart Elementary School, both in Chicago, Illinois, and worked with nearly 330 children in 2nd through 4th grades between the two schools. We are currently scheduling additional sessions with another 6 elementary schools in Chicago, and we are working closely with Communities in Schools to add additional schools to our calendar. We are truly proud of the impact the Gandhi Peace Project is having in our elementary schools!
Additionally, we have received a wonderful response from the community towards this project. Our staff has trained a total of eight instructors who are now poised and ready to present the Gandhi Peace Project in the classrooms, and we have another approximately ten other individuals who are in various stages of their training. By training a large number of teachers, NIAM will be well equipped to staff the Gandhi Peace Project as this program continues to grow.
Finally, NIAM was very proud to be honored by the honorable Sudhakar Dalela, the Consulate General of India in Chicago, for our implementation of the Gandhi Peace Project. On October 17, 2019, Mr. Dalela hosted a special reception for NIAM in celebration and recognition of the Gandhi Peace Project. NIAM thanks Mr. Dalela and his staff for their support.
We cannot thank you enough for your support towards the Gandhi Peace Project!