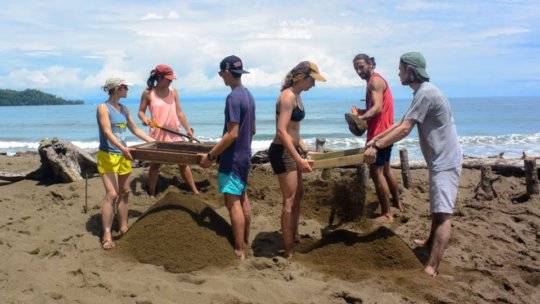 A new season is beginning!
We are excited about this new sea turtle conservation season. Starting in July 2019, we will have a new team of an excited biologist working at the Rincón-San Josecito Beach Mama Carey Project. The project has been protecting the turtles of the area for more than 10 years, Jonathan Miller, ethnobotanist and owner of Guaria de Osa together with people from the community, have been committed to patrolling the area since 2008. In 2017, due to lack of funding the project was not going to operate. The Corcovado Foundation has decided to join the cause and help maintain the program active. The camp is located in the Hotel Guaria de Osa, on the beach of Rincon surrounded by extreme wild nature. Together with the Osa Foundation, we will start the sea turtle conservation season full of motivation and new ideas!
Our volunteers will patrol the beach to collect sea turtles nests are relocate them on a nearby sea turtle nursery. The nests are protected 24/7 for 40 days until they are born. They are released immediately. This process protects the nests from poachers and predators, providing better odds for the hatchling to survive. Currently, only 1 out of 10,000 hatchlings survive. With the intervention of projects like ours, the odds of survival improve exponentially: 1 out of 100 hatchlings could make it to reproductive age.
We are also continuing our support to the Laguna Urpiano Wildlife Refuge. The Laguna Urpiano Wildlife Refuge (RVS) is a flora and fauna conservation project located in the Matina canton in the province of Limón, Costa Rica. The leatherback sea turtle (Dermochelys coriacea) nests in these beaches are one of the most important nesting beaches in the world for this endangered species.
The beaches of the Costa Rican Caribbean have suffered enormously from the sea turtle eggs poaching and their slaughter, but in the last 40 years, thanks to monitoring and protection, the poaching has been greatly reduced. However, it is still a problem. Around 80% of the nests are still been poached by locals.
The RVS Laguna Urpiano project has been the last to join the Caribbean leatherback sea turtle conservation and protection project system and the work on that beach is extremely important and necessary.
Johnny, the director, and owner of the refuge is a native of these beaches, and with the help of his companion Barbara, has been fighting for many years for the conservation and recovery of the leatherback population in this area.
Our donors, volunteers, and members are the driving force behind our environmental efforts. Your passion to protect the rainforest and to make a better world is the key to maintain our work. We depend on your support to maintain our efforts in the long term. If you haven't supported us, please do it today.