Thanks to your support of our campaign,Help Sesame Street Educate Girls Worldwide,Sesame Workshop has been able to reach girls with critical early education and promote gender equity and inclusion among all children.

With partners in Nigeria, Sesame Workshop will be creating and distributing brand-new content to 70 schools. The content, including a storybook and play mat, will explore the intersections of gender and Water, Sanitation, and Hygiene (WASH) practices at school.
The materials will be used in schools to teach children:
To use the latrine at school—and encourage classmates to do the same

To practice good hygiene

To share the responsibility for handling water and doing chores at home
The materials will also encourage and empower girls to be confident, express themselves, and actively participate in school.
Currently, the new materials are being tested with local children and teachers to ensure the messages are clear and comprehension of the materials is high. Based on the research results, we'll make revisions to strengthen the materials and then distribute them to schools nationwide.
Links: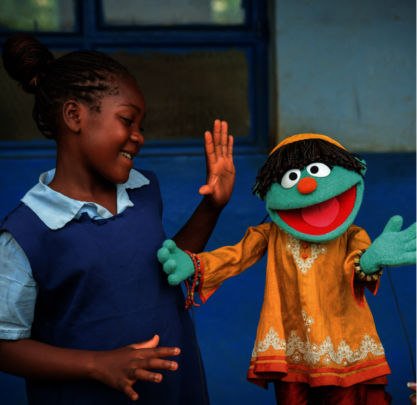 Thanks to your support of our campaign, Help Sesame Street Educate Girls Worldwide, Sesame Workshop can continue to bridge the gender-based education gap, and give girls the best chance for success in school – and in life.
With your support, Sesame Workshop has been able to reach girls with critical early learning education while promoting gender equity and inclusion among all children.
This includes programs like our WASH UP! Girl Talk program, which aims to reduce school absenteeism among young girls ages 10 to 14 that is oftentimes related to menstruation-related stigma. By bringing girls vital menstrual hygiene information, we can help improve school outcomes as they grow, and by featuring confident and knowledgeable female characters Sesame Workshop educational content models healthy behaviors and shows children that girls can take on leadership roles.
A new impact study found that participants in Girl Talk show significant increases in their knowledge of healthy hygiene behaviors and for girls, confidence in their personal menstrual hygiene. Findings also demonstrated that Girl Talk helps to shift attitudes about traditional gender roles and responsibilities, helping girls to have the tools, knowledge and confidence they need to continue to attend school.
Your support means we can continue to help girls everywhere dream big and reach their full potential. Thank you for being a part of the Sesame Workshop community.
Links: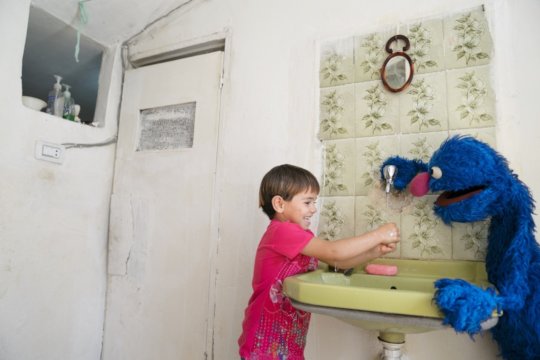 Children, especially girls, are too often overlooked in crisis, and we are determined to ensure that all children and those who care for them are not left behind during the current COVID-19 crisis.
One of the best ways to mitigate the effects of inequity and trauma is through promoting engagement between children and the adults who care for them – which is especially apparent in the current crisis as families stay home and try to navigate their "for now normal."
Through our new COVID-19 response initiative, Caring for Each Other, Sesame Workshop is responding to critical needs of children and their families around the world. We are equipping both male and female caregivers with the resources to create a nurturing and predictable home learning environment that fosters children's resilience and provides them with tools to help them manage their own stress. These resources are available in 18 languages, and are distributed through a wide range of partners in the US and globally, through television, radio, online content, mobile apps, and direct outreach in communities through partnerships with local schools and service providers.
Thank you for joining our campaign to Help Sesame Street Educate Girls Worldwide. Your support ensures that we can further our gender equity work even in the face of crisis, and continue to help children everywhere grow smarter, stronger, and kinder.
Links:
WARNING: Javascript is currently disabled or is not available in your browser. GlobalGiving makes extensive use of Javascript and will not function properly with Javascript disabled.
Please enable Javascript
and refresh this page.