ASSET India Foundation participated in the Nobel Peace Prize Forum (NPPF) in Minneapolis, June 5-8 honoring Nobel Laureate Kailash Satyarthi and his work of freeing children from slavery.
in partnership with Kailash Satyarthi Children's Foundation (KSCF), we are actively engaged in creating child friendly villages where children are totally free from all forms of slavery including sexual slavery.
Efforts are underway to provide English and computer literacy to children in these villages.
A mobile freedom caravan will reach more than 150 villages, where nearly 100,000 people will be taught the dangers of sex trafficking and the importance of their children staying in school. Children rescued from sex trafficking travel the caravan.
Printed material explaining the biology of menstruation and proper hygeine will be distributed to girls in all these villages.
A new shelter to house 100 girls rescued from sex trafficking has just been completed in Hyderabad in partnership with Prajwala.
"Why are girls in rural India vulnerable to sex trafficking?"- a question from my daughter Nita, (co- Founder of ASSET India Foundation) sent me on a search, resulting in a discovery of startling facts. Girls education has become a cliche- money raised for building schools, libraries, books and computers. No one ever stopped to ask why girls are missing school ONE WEEK every month, fall behind, get ridiculed and bullied and eventually drop out of school in rural India.
The answer to Nita's question is Menstruation and the lack of availability of sanitary pads. It became clear that if I made sanitary pads available and kept the girls in school, they get educated, dream of a bright future and escape the attention of sex traffickers.
My search for a sustainable, scalable and environmentally friendly sanitary pad manufacturing operation took me far and wide. The solutions I came across did not meet any of my selection criteria.
After searching for more than a year, I finally found a passionate group of young engineers based in Mumbai who are dedicated to producing and distributing sanitary pads to keep girls in school and not drop out. Saral Designs was founded by Suhani Mohan and her friends all of whom are IIT grads.
http://www.saraldesigns.in/about-us/
My conversations. with Suhani have helped Suhani understand our need to scale and to be able to serve girls thousand villages in partnership with the Kailash Satyarthi Children's Foundation. She and her team have thought through the entire manufacturing and distribution processes and I am very impressed. To start with, I have proposed that the Saral Designs pads be distributed among girls in 150 villages in Assam that are reaching through our school bus Mukti Caravan anti trafficking education program.
Links: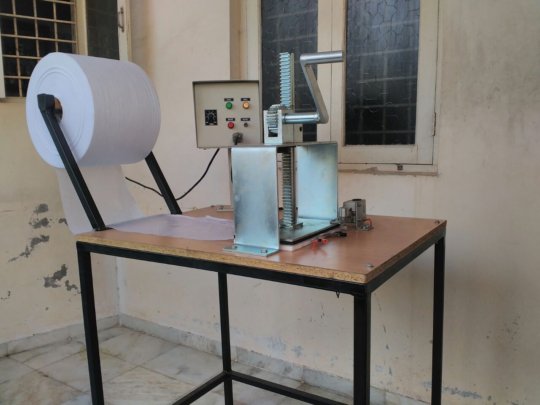 English language instruction and computer literacy programs continue in six centers in Hyderabad, one center in Delhi, one center in Kolkata and one center in Forebesgunj. There is great interest among the girls in learning both English and computers.
As we continue to expand into villages in rural India with our English and computer literacy programs, we came acroas a major hurdle. Girls were dropping out of high schools in record numbers making it impossible for us to recruit them. As we investigated the reasons for the drop out, we discovered that the lack of availability of sanitary napkins was a major reason.
Girls used dirty rags, newspapers and due to poor hygienic conditions fell sick. The lack of toilet facilities in schools created embarassment for the girls. To address this problem we searched for a manufacturer of inexpensive sanitary pads using locally available materials. We found a very reputable social entreprenuer Swati Bedekar in the city of Vadodra making these machines as well as brick kilns to dispose off the used napkins.
we have partnered with Swati Bedekar and I will be visiting her on December 26th. Our plan is to set up one machine in each community, train the women to operate the machine and employ them. The pads will be sold to the girls by this community wnterprise to generate income to offset operating expenses.
After the successful implemwntation of the pilot project, plans will be made to install the machines in each of the 150 villages.
WARNING: Javascript is currently disabled or is not available in your browser. GlobalGiving makes extensive use of Javascript and will not function properly with Javascript disabled.
Please enable Javascript
and refresh this page.