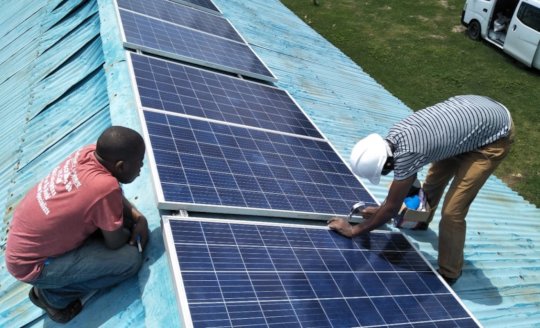 Greetings! I hope this message finds you well. I know that this is a very distressing time for many people and families and my heart goes out to all those who are suffering and all those working so hard to protect us.
At this difficult time, I would like to share with you a positive story about a health centre in Kwale, Kenya, which has recently received solar power to improve healthcare provision for rural communities.
Kwale is a very poor county with little infrastructure development. 47% of its population currently lives below the poverty line. Access to affordable, adequate and reliable electricity plays a major part in the welfare of the people in the region. It is vital for the provision of education and healthcare services.
Over the last few months, Energy 4 Impact has identified 12 health clinics and 68 schools in the area, which are too far away from the national electricity grid or that are nearer the grid but cannot afford the connection fees. With your help, however, we are giving them the power they need.
The Godo Dispensary is a healthcare centre located 35 kilometres away from the main town, Lunga Lunga, along the southern coast of Kenya, near the border with Tanzania. The centre serves 15 villages within a radius of 26 kilometres. An estimated 7,624 people benefit from the care provided by 10 medical staff and 27 health workers. The dispensary offers a range of primary care and outpatient services, voluntary counselling, HIV testing and outreach lab services. It is also an important hub for dispensing medication to the community and for promoting public health education.
Prior to our intervention, the Godo Dispensary was using a small solar PV system. However, it did not meet its energy needs and without sufficient and reliable energy, healthcare workers didn't have all of the necessary tools to treat patients and save lives.
Due to your generous support, we have now installed a larger solar system to enable them to use electrical equipment such as a steriliser, a refrigerator for drugs and vaccines, a suction machine for the maternity ward, a weighing scale as well as air cooling fans. It also powers lighting within the building in the compound and phone charging equipment.
I'm sharing some photos with you to give you a better idea of the difference that your generous donation is making.
Please keep supporting our Powering Villages Project. Energy is needed now more urgently than ever.
Thank you and be safe!
Kind Regards
Alessandra