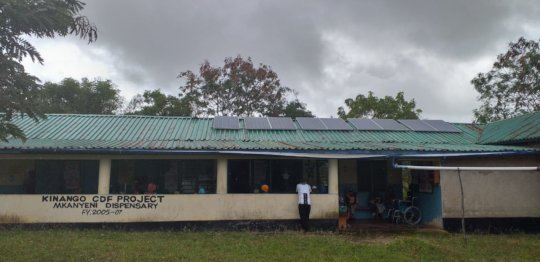 Greetings! 2020 is proving a turbulent year for people across the globe so I hope this email finds you safe and comfortable.
At such a distressing time it is important to share positive news too. So I would love to give you an encouraging update about a Kenyan health centre that has resourcefully adapted to the challenges of coronavirus. It provides an inspiring example of how healthcare professionals have mobilised to protect their communities during such unprecedented times.
Kwale is an impoverished rural region on the Kenyan coast with little infrastructure development. Access to affordable and reliable electricity plays a major part in the provision of healthcare services in the area. Located in Kwale, the health centre and dispensary of Mkanyeni has remained fully operational, thanks to the generosity of donors to our Powering Villages project.
When the pandemic forced Kenya into lockdown back in March, the facility was able to continue to provide its services at increased capacity. Covid-19 cases in Kenya are only handled at larger public hospitals, newly established county facilities and accredited private hospitals. Electrified with the help of Energy 4 Impact, Mkanyeni is a level 2 facility that has no direct role in treating patients with coronavirus, but remains nevertheless crucial for the provision of essential services.
The facility offers services to the rural communities such as antenatal, maternity, family planning cervical cancer screening, outpatient consultation, HIV screening and child welfare services (immunisation, growth monitoring and nutrition).
The solar PV system installed by Energy 4 Impact has allowed the clinic to provide improved services even late in the evening thanks to well-lit consultation rooms and enhanced security lighting. It has also enabled the clinic to power appliances such as a fridge where they now store vaccines at the required standard temperature. In addition, expenditure related to using a diesel generator has reduced.
The quality of services provided at the facility has markedly improved. The facility's clinical officer Simon Magondu says, "We have been able to continue providing health services at this facility despite the pandemic. These services are being offered in strict compliance with Ministry of Health guidelines about washing hands at the entrance, wearing a mask whilst on the premises and observing appropriate social distancing."
However, the pandemic has also thrown up unique challenges that will require modification of practices at the clinic. Other clinics involved in the Powering Villages project will also need to implement similar adaptations such as:
purchasing personal protection equipment (PPE) for the staff.
community mobilisation on COVID 19 awareness.
purchasing more seats to ensure social distancing
purchasing more appliances for screening purposes, e.g. standard handwashing containers and thermos guns for taking body temperature
Further financial assistance would allow health centres to maintain a continuity of care and service to their communities despite the challenges of the pandemic.
Please check out the attached photos which help give a clearer idea of the difference that your generous donations are making!
Clean energy is needed now more urgently than ever, so thank you so much for supporting our Powering Villages project.
Kind Regards
Alessandra