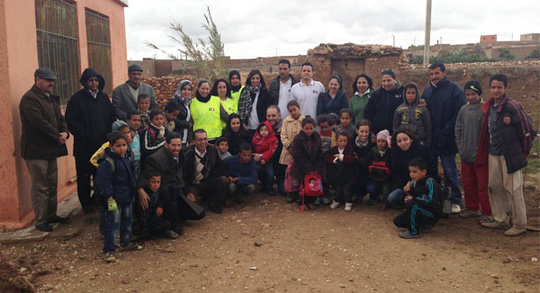 Thanks to you, HAF helped improve the lives of over 700 children and their families by delivering fruit trees for students to take home and planting fruit trees in the schoolyard, teaching students agricultural techniques for sustainable development. This planting and distribution with children is the pinnacle of Sami's Project, a HAF program inspired by the loving memory of Samil El Kouhen to bring sustainable benefits to youth in Morocco.
Every weekend for the past month, HAF's team has joined local educational and community leaders to plant trees in schools throughout Rhamna and Al Haouz provinces in rural Morocco. Trees planted include pomegranate, lemon, fig, and olive. Others are given to the students to bring home to their families. HAF has been greeted by songs and presentations from eager, clever, and passionate youth.
Sami's Project encourages children to be their own advocates for education through the participatory approach that gives them a stake in their education, assuring that Sami's students aren't part of the 400,000 students in Morocco who drop out of school before their baccalaureate. This is because HAF teaches the benefits of small scale farming by showing the direct impact of innovative agricultural techniques on families' income. Students that learn how to properly care for a fruit tree understand the opportunity to scale up and agricultural and market entrepreneurialism. HAF and communities are working to improve this model and the economic benefit as it seeks to incorporate organic certification of fruit trees around Morocco, and train students and families in these methods.
The benefits of Sami's Project resonate around Al Haouz and Rhamna, because the results are sustainable, and the next generation in Morocco will benefit the most. Sami's Project teaches elementary school students the numerous benefits that trees can bring to a community, and then trains them in how to plant and maintain trees in their school yards. The eventual fruits of the trees will benefit each school. HAF coordinates this project with teachers, community members, local Ministry of Education delegates and members of communal councils. Labor to plant the trees is provided in-kind by the communities, and the students participate wholeheartedly in the planting.
Sami's Project was conceived by the El Kouhen family, inspired by loving memories of their 3-year-old son Sami (in the photo) who, before losing his battle with cancer 5 years ago, had already shown his love for the outdoors even at such an early age. Sami's father, Dr. Rachid El Kouhen, catalyzed this initiative with HAF Board Members, and together they organize the youth activities.
HAF is concerned with all aspects of community development. HAF recognizes that it is not only tree planting that encourages students to become entrepreneurs through education and good practices. It is also improving conditions in communities by bringing clean drinking water, which leads to a 16 percent increase in attendance rate (HAF Study in Tassa Ouirgane 2011). HAF both works with children to improve their technical education, and encourages participation in education through clean-water projects, school infrastructural and botanical garden initiatives, and participatory trainings.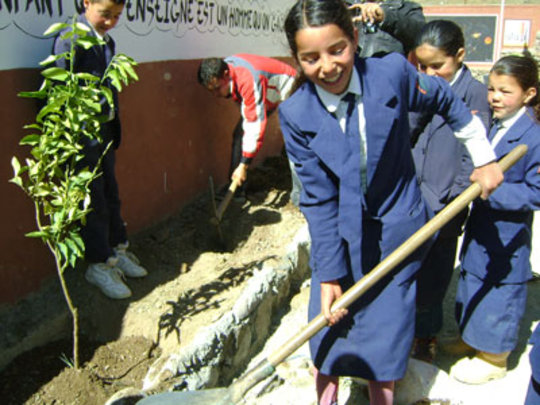 Links: