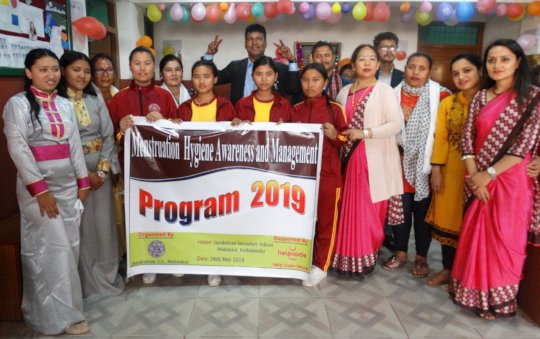 We started Happy Period with an important goal: bringing menstrual kits to 600 girls from Chitwan, a rural area of Nepal.
We are happy of what we have achieved in 6 months (but we will be not satisfied until we have complete our goal).
Thanks to many donations, we have already delivered menstrual hygiene kits to 309 girls from three rural schools in the Chandibhanjyang municipality. Specifically, in the Pamdada School we distributed menstrual kits to 106 girls, in the Chanaute school to 45 girls, in the Mungling School to 158 girls.
Inside the menstrual kits, there are safe, nice, easy to use and long-lasting sanitary pads.
Vulnerable women produce these kits in our sewing workshop in Chitwan: these women can thus emancipate themselves in turn thanks to the profits they make from their sales. In addition to sanitary pads, the kits also include a towel, a shampoo, a nail clipper, underwear, toothpaste and a toothbrush, a hand soap, a bath soap, a laundry soap and a comb.
At the same time, we conducted courses on menstrual hygiene at the Sarbashanti Secondary School and at the Triveni Barah Secondary School that involved groups of mothers, teachers and girls and boys. The course participants discussed the experiences and practices of menstruation management and the general perception of them that they had.
We also organized a special debate contest with 47 girls at the Srabashanti Secondary School. A committee of three teachers selected the winners who better discussed topics about menstruation. The girls talked about issue and facts the learned during our hygiene course:
the physical disorders related to the menstruation;
the social discrimination against menstruating girls and the problems faced by female students at school during the menstruation;
the health problems due to lack of adequate hygiene during menstruation;
the impact of traditional health practices on girls' lives;
the negative effects that has the use of dirty and wet cloths instead of sanitary napkins, or other unhygienic materials such as dry leaves, ash and cow dung.
Thanks to your invaluable help, many girls from the Chitwan district looking at future with hope. Menstruation is no longer an obstacle to their study and life.