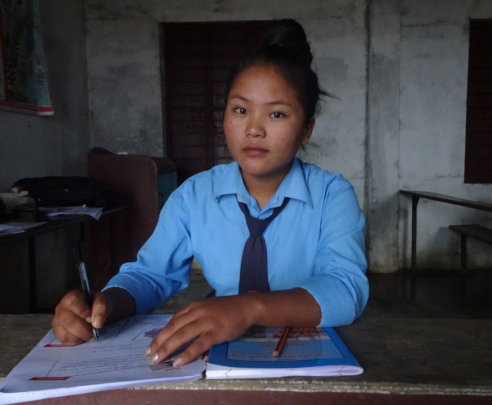 If things had been normal, Mashida would have been in the final year of high school and looking forward to going to college. Instead she is uncertain what the future holds.
The National Examination Board has cancelled the exams which Mashida was supposed to take in April and told schools to conduct their own examinations. She has not heard anything about this from her school.
"This was supposed to be the last year at high school, but the academic session hasn't started yet and I am still stuck at my home," said 16-year-old Mashida from Fishingl in Chitwan district.
In the meantime, she is relying on distance learning programmes provided by a local radio station to stay productive and motivated. However, she is worried about falling behind, citing distractions at home and financial hits from the lockdowns.
"Although my parents encourage me to focus on my studies, I am also expected to do the cooking, cleaning and babysit my little brother. I spend more time on doing household chores than studying," said Mashida.
Globally, the World Bank estimates that 1.6 billion children have been pushed out of school since March, including 111 million girls in the world's least developed countries. Studies conducted by UNESCO and UNDP said financial uncertainty unleashed by the Covid-19 can lead to girls being pushed into child marriage, child labour, human trafficking, sexual violence and other forms of exploitation.
The worsening of the economic situation is having a negative impact on the period poverty, with many girls not affording to access to hygiene materials and sanitary pads.
In Chitwan, Helpcode is supporting girls to go to school. During these months, Sheila, the educator officer, keep in contract with teachers and students I order to monitor the children situation in the lockdown.
"We cannot just wait until the school reopens to find out whether or not the pandemic pushed girls out of school. It will be too late, and any reactive programmes will be less effective by then," said Mr Bharat, Director of Helpcode Nepal.
"When parents face crises because of limited income and resources, they are likely to neglect or deprioritise daughters. These girls are forced into staying back at home, doing household chores and some even end up getting married," said Sheila, Education Program Manager at Helpcode Nepal.
During the lockdown, Sheila has been reaching out to dozens of girls through phone calls, personal visits or text messaging to follow-up on their educational progress and on their family situation. "Most of the girls are having financial problems at home and this stress is impacting their studies," she said. "I listen to them and try to give them suggestions and motivate them to stay focused and optimistic."
She also talks to the parents to explain the importance of girls' education. "We want to send a message to the parents that no matter what, they must never compromise with their daughters' education," said Sheila.