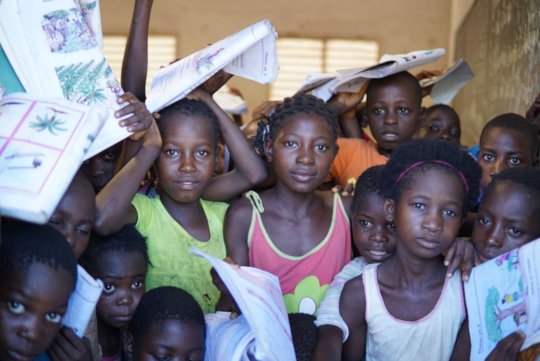 Since our latest update, the spread of COVD-19 in Mozambique has rapidly increased, reaching almost 14,000 total cases since the beginning of the pandemic. The sharpest increase occurred at the same time of a relaxation of emergency measures, that the government introduced in order to avoid a severe economic and social crisis that is already affecting many families, as most of the country is facing a "stressed" or "crisis" Food Insecurity Phase.
However, this new phase in the COVID-19 crisis management in Mozambique has not resulted in relevant changes in the education sector: primary and secondary schools remain closed, except for final year students. This means that the wellbeing and access to rights of over 10 million Mozambican children in school age is at risk due to:
falling into poverty or increasing poverty severity;
reduced learning opportunities;
barriers to survival and good health;
increased risks of violence, abuse and exploitation of children in precarious situations (UNICEF 2020).

[1]
"The longer schools are closed, the greater the loss of learning time and the greater the chances that children, particularly girls, will not return to the classroom when schools reopen" (UNICEF 2020).
Notwithstanding some relevant progresses in key education indicators over the last two decades, such as access to school, the indirect effects of the COVID-19 pandemic are amplifying the fragilities of the sector:
There are still almost two million primary-school-age children

that are out of school;

More than one third of students drop out before Grade 3 and less than half complete primary, well below the average in Sub-Saharan African countries

;

Due to several factors including high levels of teacher absenteeism, children only have 74 out of the 190 expected school days in the year

;

[2]

While 94 percent of girls in Mozambique enroll in primary school, more than half drop out by the fifth grade, only 11 percent continue on to study at the secondary level, and just 1

percent continue on to college;

33.2 per cent of girls in urban areas and 44.4 per cent in rural areas get pregnant before the age of 18.1;

Among children who finish primary school, nearly two-thirds leave the system without basic reading, writing, and math skills

[3]

;

74 per cent of children live without electricity, and only 2 per cent have access to the internet;

Prior to the outbreak, 10 per cent of children or just over one million children aged 0−12, were orphans.
Helpcode Italia's core activities in Mozambique include supporting schools in rural areas and vulnerable families through a multidimensional approach that aims at enhancing their productive capacity while raising awareness on the importance of sending kids to school.
Drop-out rates will peak once the school reopens, as children who have been out of formal schooling for almost a year have been diverting their time to productive and care activities to support family's needs.
The severe economic crisis that is unfolding in Mozambique is expected to severely impact on children and to expose more girls to the risks of violence, early pregnancies and marriages, transactional sex – as coping strategies to escape poverty.
In this context, providing girls with menstrual kits is part of a more comprehensive strategy that Helpcode adopts in Mozambique and it's considered critical to promote dialogue on sexual and reproductive health rights.
We thank you for your support.
[1] https://www.unicef.org/mozambique/media/2531/file/The%20Impacts%20of%20COVID-19%20on%20Children%20in%20Mozambique%20.pdf
[2] https://www.globalpartnership.org/where-we-work/mozambique
[3] https://www.usaid.gov/mozambique/education#:~:text=The%20Ministry%20of%20Education%20reports,of%20males%20(60%20percent).