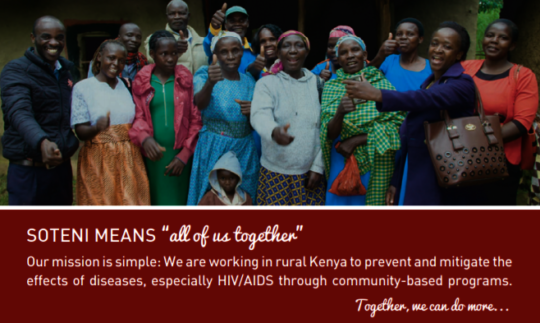 Contributing to breaking the cycle of poverty and AIDS in rural Kenyan villages, SOTENI International AIDS Barefoot Doctors are community members/health workers who provide home-based care, group therapy and education to people living with HIV/AIDS. In our three SOTENI Villages of Hope.
In 2019, SOTENI AIDS Barefoot Doctors facilitated the following:
Hosting 140 support groups which served 21,143 people in total
Distributing 705,295 P&G Purifier of Water packets in partnership with the P&G Children's Safe Drinking Program.
Over 16,000 people in SOTENI Villages of HOPE received access to safe drinking water through the P&G Purifier of Water packets, distributed by SOTENI AIDS Barefoot Doctors.
Why is clean water so important to SOTENI's mission?
Many anti-retroviral treatments and drugs that HIV/AIDS individuals require safe drinking water in order to be effective.
When mothers with HIV/AIDS elect to feed their infants with formula instead of breast milk, safe drinking water is needed to mix the milk formula. Unsafe water puts babies at risk of contracting life-threatening diseases and infections.
Each P&G Purifier of Water packet treats 10 liters of potentially dangerous, contaminated water in just 30 minutes.
SOTENI International is proud to announce that P&G's Children's Safe Drinking Water Program (CSDW) has extended its partnership with SOTENI to provide clean water to rural Kenya through 2020. Since 2010, P&G's CSDW program has provided support to SOTENI's AIDS Barefoot Doctors Clean Water outreach. With this renewed support, SOTENI aims to increase the distribution of water purification packets by 23%; reaching more than 2,000 families a month, who are living with HIV/AIDS. The P&G Children's Safe Drinking Water Program was launched in 2004 and recently celebrated delivering 15 billion liters of clean drinking water in more than 90 countries.
A MESSAGE FROM THE EXECUTIVE DIRECTOR

SOTENI was founded 16 years ago with a vision to be the best model for preventing AIDS in vulnerable communities around the world. Last year alone, SOTENI served over 17,000 individuals and families living with HIV/AIDS in rural Kenya. We did this through our flagship program, AIDS Barefoot Doctors, our clean water partnership with Procter & Gamble's Children Safe Drinking Water program, and community-responsive programs in SOTENI Villages of Hope including a health clinic, a community business and learning center, agriculture projects and income-generating activities.
We invite you to read our 2019 Annual Report. As you read through it, we know you will be proud of the work SOTENI is doing, and we hope you recognize your vital part in advancing SOTENI's vision.
Your ongoing support is the reason SOTENI is able to create a vision and plan for our strategic growth, outreach and engagement.
Thank you for being with SOTENI, as a supporter and friend as we move forward together! We are truly grateful for your support.
Links: