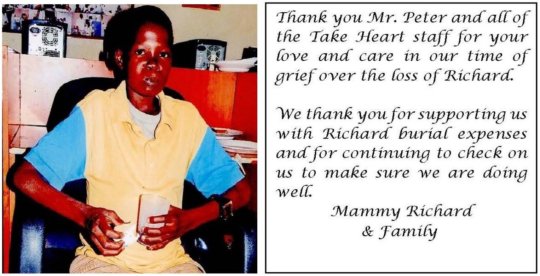 This summer has been bustling with activities for everyone at Take Heart Association Project (THAP) in Kenya which has resulted in 52 patients, families, and visitors, positively impacted, and new partnerships formed.
In early June, seven patients 5-18 years old, with Congenital and Rheumatic Heart Diseases, underwent evaluation, cardiac reviews, and received successful heart surgeries and/or interventions at the Tenwek Hospital in Bomet Kenya. Patients, were accompanied by THAP personnel and were driven from the Family Center in Nairobi to the hospital in Bomet. All patients are recovering well, and have good prognoses for leading normal lives. Forty-five (45) other children and families received services, and support to improve health and diet during this period that included: Medicine 15; Reviews 7; tests 2, and Accommodation at THAP Family Support Center 21.
On June 8, 2016 THAP experienced deep sadness when Master Richard who was admitted to Kenyatta Hospital due to water retention died. THAP has supported Master Richard with medicine for 2 years hoping to improve his health so he could undergo much needed corrective intervention. Unfortunately, his frail body could take no more and he succumbed to his illness. THAP continues to support his family in their time of grief. In light of this recent experience, in early August THAP facilitated two educational programs in Kiambu and Limuru, Kenya to empower families on how to deal with grief and the loss of a loved one, post-surgery care, and equipping them with health care knowledge on behavioral and emotional functioning, quality of life, and adherence.
THAP has expanded its network of supporters by securing the services of two more physicians to serve at Tenwek Hospital. Dr. Ron an adult cardiologist from Minnesota USA went to Tenwek Hospital Jul 21-31. He attended to patients with mitral stenosis providing catheter intervention. Two of THAP patients, Mary and Consolata benefitted from this partnership. Dr. Allison a pediatric cardiologist from the Mayo Clinic will screen children with congenital heart defects the first week of September. THAP Kenya is putting together a group of children to be evaluated by Dr. Allison in September.
Continued collaboration with Chain of Hope has allowed for THAP accommodating in-transit patients at the Family Center, and produced a plan where Gift of Life International (GOLI), is currently evaluating whether there is need to build a dedicated cardiac unit at Tenwek Hospital in Bomet Kenya. A dedicated cardiac unit could prove extremely worthwhile to increase the number patients that could be helped year round.
Donors, partners, and supporters, please accept our sincere thanks for all you do to ensure that THAP and CAC positively impact the lives of children that desperately need intervention and corrective heart surgeries. We are able to do this work because of your continued support.