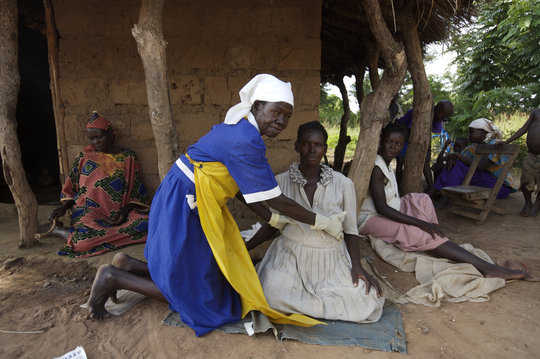 Though AMREF brings health and hope to all African families in need, beginning in 2010, we made a conscious decision to focus more heavily on maternal and child health. Currently, we are hoping to make the most impact in the Millennium Development Goal #5 (improvement of maternal health).
What women in the developed world take for granted - skilled midwives, an obstetrician and operating theatre if needed, and the antibiotics and drugs to ensure that should complications arise, the mother is rapidly brought back to good health – all these apparently basic things, are great luxuries in Africa.
In particular, women in poor and remote communities, far from the nearest health services are most at risk- with young women and girls are in the most danger. In many communities girls still marry at very young ages and contraceptive advice is poor or non-existent. Many of the worst complications in pregnancy are suffered by teenage mothers; giving birth is a physically traumatic experience for a girl whose body is still developing.
Based on current trends, Sub-Saharan Africa will not attain the Millennium Development Goals (MDGs) by 2015. MDGs 4 and 5, to reduce maternal and child mortality and morbidity, are those towards which the least progress has been made. At the current rate of progress in Sub-Saharan Africa, MDG 4 to reduce child mortality will not be met until 2165 in Africa. Evidence suggests that over 60% of deaths in children less than five years old could be prevented by existing interventions. Of deaths in new-borns, 41 to 72 % are preventable using a high coverage of available interventions. Half of these deaths could be avoided through the use of community-based programs. MDG 5 which aims to "improve maternal health" is desperately off-track. The shortfall in funds to meet the MDGs for maternal and child health amounts to only 2% of current development aid – a small fraction of world spending. Yet investing in women and their health strengthens families, communities and countries. Family budgets, local productivity and national wealth all flourish where maternal health is prioritized. In many countries, weak and fragmented health systems, and in particular inadequate human resources do not permit the scaling-up of crucial interventions for maternal, new-born and child health.
To fight for more skilled medical training and assistance for women in Africa is not only a justice battle or an ethical need. It is owed to present and future generations for a fair and sustainable economic and social development, it is part of our common survival, and it is a gain for our intercultural world that we hope for. We need to support the creation of healthy conditions for women and children which deserve their full dignity to continue their contribution to life.
177,000 mothers are dying each year in pregnancy and child birth in Sub-Saharan Africa and the chances of dying are actually going up in some countries. But, it does not have to be this way; most of the deaths are avoidable. Simple affordable training and equipment saves lives and ensures that having a baby is a time of joy for the whole family.
AMREF is already working hard to help mothers. Our conviction is that there is now an urgent need to do more. It is simply unacceptable that more women will suffer and die when simple affordable solutions are at hand.
Links: