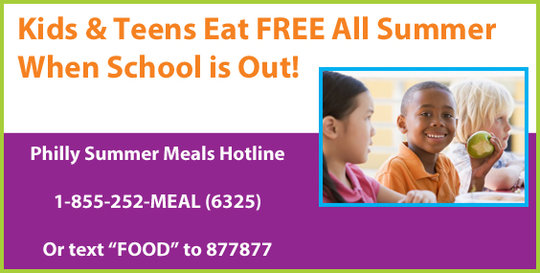 Summer vacation. For many, the thought of those precious few months away from school bring back happy memories of days spent playing with friends, going to the beach, or enjoying a swim at a local pool. Unfortunately for too many children in the Philadelphia area, summer also brings hungry stomachs.
Families with children who receive free or reduced price school meals often rely on those programs and leaves many of scrambling to provide enough during the summer. According to the Food Research and Action Center (FRAC), only one in five Pennsylvania children who participate in the school lunch program also participate in summer meals. It is imperative that we all help spread the word about FREE summer meals that are offered at more than 1,000 sites in the Philadelphia region!
Kids and teenagers up to 18-years-old are able to receive free meals with no registration, ID, or proof of income required. To help raise awareness for the program, the Greater Philadelphia Coalition Against Hunger held a press conference on Tuesday, June 23, at Aquinas Center in South Philadelphia. The kids present received lunch and listened to remarks by Deputy Mayor of Philadelphia Rich Negrin, USDA Representative James Harmon, Anne Ayella from the Archdiocese of Philadelphia, and Noelle Dames of the Coalition Against Hunger. In addition, Philadelphia Eagles Mascot SWOOP was there to show his support for the program!
In an effort to reach more children and teens this year, the Coalition worked with AFRICOM Philadelphia to translate outreach materials into nine languages! This effort, coupled with phone calls from Mayor Michael Nutter and Philadelphia Eagles player Jon Dorenbos that will go to all families with school-aged children in Philadelphia, will help us connect more children and teenagers to summer meals.
Once again, the Coalition Against Hunger is hosting the Summer Meals Hotline to make it easy for people to find their nearest summer meals site. Those in need of summer meals should call 1-855-252-MEAL (6325), text "FOOD" to 877877, or visit www.phillysummermeals.org for a searchable map.
Together, let's make sure no kid goes hungry in Philadelphia this summer!
Links: