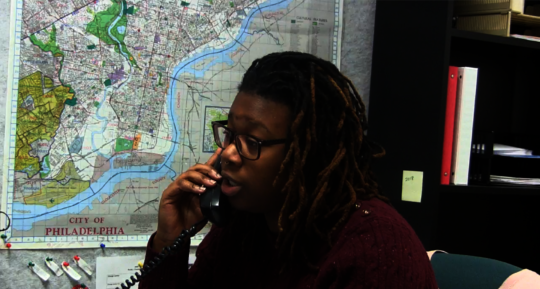 Last year, The Coalition Against Hunger connected over 3,000 households with needed SNAP (food stamp) benefits. The process of applying for benefits can be complicated and confusing. Our bilingual hotline counselors support clients from screening for eligibility, through application and even beyond. Our case manager and hotline counselors work tirelessly to ensure that those who are eligible, receive the benefits they are entitled to.
With SNAP cuts threatened in recent federal budget proposals, The Coalition takes seriously our commitment to stand with our neighbors, family members and friends who use the program to help make ends meet. More than 480,000 people receive SNAP in Philadelphia alone. Simply put, it is our nation's greatest defense against hunger and helps millions of Americans put food on the table.
Important to Note:
"Screenings" refer to the amount of phone calls seeking assistance applying for SNAP. Before completing an application, we screen callers to ensure that they are qualified.
"Applications Submitted" is the number of applications for SNAP benefits that we completed last year.
"Expedited Applications" refer to clients who received benefits no later than five calendar days from the application date. To be eligible for expedited or emergency benefits, a household must meet ONE of the following:
The household's gross monthly income (income before taxes and deductions are taken out) is less than $150 AND the value of total liquid resources (such as money in checking and savings accounts, cash on hand, etc.) is $100 or less.
The household's combined monthly gross income and liquid resources are less than its monthly shelter expenses. Shelter expenses is the amount the household pays for rent, mortgage, property taxes, homeowners insurance and utilities.
2017 TOTALS
Number of Family Screenings: 3,285
Number of Family Applications Submitted: 3,032
Expedited Family Applications: 1,747
Average Family Benefit Amount: $212/Month
*This total only represents our clients, or callers to our hotline. It does not include city-wide, or state-wide totals for SNAP applications.
If you or anyone you know needs food, please call our SNAP Hotline at 215-430-0556.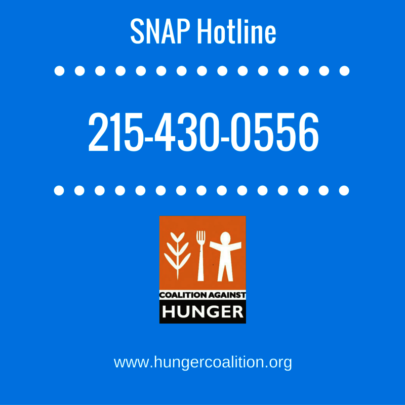 Links: