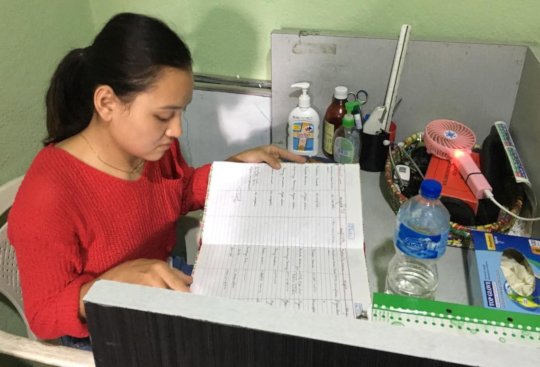 Welcome to our first GlobalGiving Report!
We would like to share our first quarterly report with you in order to let you know the difference your generosity has made to the peopled helped by Roads to Rehab Nepal.
When you made your donation during GlobalGiving's Accelerator campaign you would have received an individual thank you from us, but we can only send correspondence to you as prompted and prescribed by GlobalGiving, so if you are not on our Roads to Rehab Nepal mailing list outside of GlobalGiving, you may not know this next piece of news…. Your contribution enabled us qualify for permanent membership of this wonderful non-profit organisation which means we can now access all the benefits that GlobalGiving provides! Thank you, thank you, thank you!
Not only this but your generosity has also meant that we have been able to commit to fund the wages of a third nurse at NHEDF. This was a huge relief to Samrat, NHEDF's Director, as he now has a permanent staff member for morning, afternoon and night shifts, and Staff Nurse Ashika started work at the end of June and is settling in nicely! Samrat is also incredibly grateful for your support.
Your generosity has also enabled us to pay the medical costs of Rajan, a young man who was hit by a car in early July and sustained a nasty leg fracture. He needed surgery which he could not afford, so after his leg was plastered, he camped outside the hospital for many days begging for money for treatment. He was in severe pain and nearly lost his leg as the wounds inside the cast became infected over time, but eventually someone who knew of NHEDF noticed him and he was referred to the Shelter. Rajan was operated on in early August and has made a great recovery. He expects to be heading home after a month of ongoing nursing care and intensive physiotherapy. You have changed his life forever....
In addition to Rajan, your generosity has also meant that all 16 patients at the Shelter have been able to have all the medical equipment, supplies and medications they needed for the months of July and August.
As one of NHEDF's recently discharged patients said "People used to come every day to ask me for money to pay for my treatment. I only have 1 ropani (508 square metres) of land which is worth 3 Lakh (US$ 3000). If I sell it, my family and I will not have any place to live. It's better I die. I have become a big burden to my family. If I was not at NHEDF I could have ended my life. I will always remember NHEDF."
On behalf of all NHEDF's staff and patients we cannot thank you enough for helping us change the lives of people who have no one else to turn to and nowhere else to go. We hope to have another GlobalGiving campaign to coincide with both the International Day of Persons with Disabilities on December 3rd and the Christmas season as the work that NHEDF does, and the ways in which we help their patients access medical care, surgical intervention, nursing care, physiotherapy and rehabilitation services is directly related to the generosity of people like you.
We look forward to sharing future reports with you and if you would like any more information about the work we do or have any questions please do not hesitate to visit our website www.roads-to-rehab-nepal.org and contact us.
With best wishes and grateful thanks for your wonderful support.
Virginia Dixon,
President, Roads to Rehab Nepal