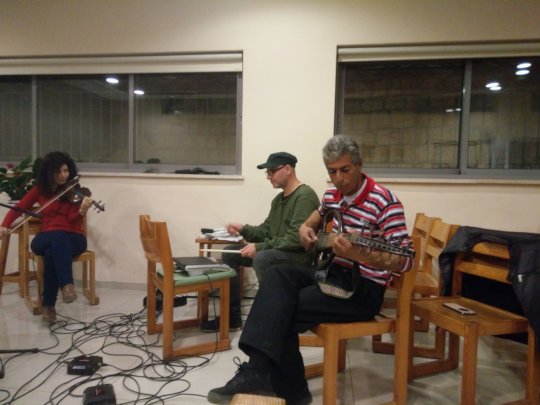 November 2018
This month we met three times, on 13.11, 20.11 and 27.11.
Participated Marwan, Rachel and Shani, and a new singer who joined us – Amal who sings beautifully! We look forward to the future.
December 2018
We met 4 times, on 5.12, 11.12, 18.12, 25.12.
Samir, a singer and drummer, became a regular participant during the month. In the end of the month two more members joined – a guitarist and a drummer. We continued working on the usual repertoire and also learned one new song.
We feel that our band is now ready to perform.
January 2019
We met 5 times, on 1.1, 8.1, 15.1, 22.1, 28.1.
Participated regularly Marwan, Rachel, Yuval, Amal, Yehonatan and Samir. Amal is a gifted singer who joined us lately.
We continued with the regular songs and learned a few new ones. Yehuda visited us and filmed one of the songs: https://youtu.be/YxFl31_Zpug.
Links: