Hello from Zanzibar!
Introduction
As a result of the generous donation that you made through Global Giving, we now have a computer classroom complete with 12 laptop computers. Since our last update, we have been busy putting the finishing touches on the computer classroom and procuring all of the needed equipment to make the Welcome Ideas Computer Classroom a reality. We are currently offering two Beginning IT in Tourism courses and will begin offering an Intermediate IT in Tourism class shortly. Before and after classes the computer classroom is a-buzz with students practicing typing, finishing assignments for IT, and preparing presentations or documents for other classes.
Facility Preparation & Equipment Procurement
As part of our last update, we had mentioned that we would need to purchase an air conditioning unit to ensure we keep the classroom dust-free and at an ideal temperature to allow students to learn. Since then, we were able to work with our landlord who purchased and installed the air conditioning unit for us as part of our new lease agreement, leaving us with the much-needed funds to purchase additional computers. As of the last update, we had the funds available to purchase 9 computers – but as a result of the work we did to ensure the landlord covered the cost of the air conditioning unit, we were able to purchase 12 computers.
After the successful installation of air conditioning in the computer classroom, we had workers ("fundis" as they are called in Zanzibar) seal the doors to ensure dust cannot enter the classroom. We also contracted with fundis who made metal security gates for each door entering the computer classroom to act as a deterrent and preventative measure against theft. After completing all of the facility work needed to secure and protect the computers, we were finally ready to install the computers in the classroom.
Since we were able to purchase 12 computers instead of 9, our IT vendor was able to offer us an additional 50,000 shilling discount per computer off the original price which was 1,200,000 shillings per computer. This rate is guaranteed through the remainder of the year and into early next year, so we can purchase the remaining computers at the same price. Through our vendor, we were able to secure Lenovo laptop computers with 15.6 inch screens, i5 processors, 4GB of RAM, with Windows, Microsoft Office, and Antivirus software installed. These specifications have met our needs well and our vendor has already installed all 12 laptops in our classroom. Having laptops is essential in Zanzibar as we often experience power cuts and the battery powered laptops allow our students to continue their work in class even during power cuts. We also have purchased voltage regulators to ensure we are able to protect the computers from the extreme power fluctuations on the island.
An updated financial expenditure document has been included below, so you can see all of the financial expenditures we have made to-date to prepare the computer classroom for our students.
Beginning IT in Tourism Courses
We have already begun 2 sets of our Beginning IT in Tourism course. Students taking this course have been focused on learning typing/keyboarding as well as the basics of Microsoft Office. Every class begins with 30 minutes of typing practice where we use Typing Instructor Platinum to provide lessons and practice for students to work on increasing their typing speed. Most students come in early, so they can get a jump start on typing practice and have additional time to improve their typing speed. Students measure their own words per minute and compete with themselves and other students to improve their speed. In the next update we'll provide you with the average word per minute increase of our Beginning IT students.
After completing typing, students then watch a 30-minute demo of the days lesson on Microsoft Office. They have the opportunity to ask questions, see the functions as used by the instructor, and take notes on the day's lesson. Students are then given the remaining hour of class to complete an assignment that corresponds with the daily lesson. The instructor then assists students with their assignments on an individual basis.
After completing the Beginning IT in Tourism Course, students will be able to use Microsoft Word to create a business plan, Microsoft Excel to create basic financial documents, and Microsoft Powerpoint to create business presentations. We hope you enjoy the pictures included in this update of some of our beginning level students in the new computer classroom.
Intermediate IT in Tourism Course
We have a number of students anxiously awaiting our intermediate IT course. We have not yet been able to offer this course since we have had to split the beginning IT students into two groups/classes as our computer classroom has only half of the computers needed to be at full capacity. If we had 24 computers in the classroom, we would already be offering both a beginning and intermediate level course.
Our students have been very understanding of the delay and will be starting this course shortly as we work on freeing up the teaching resources required to be able to offer this class. Our intermediate course will continue to have a typing/keyboarding component, will provide students with instruction on more advanced Microsoft Office functionality, will teach students Quickbooks, and (provided we have the funding for internet) will include a web design component. Our next update will include pictures and a more detailed overview of the intermediate course.
Open Computer Lab Time
Before and after class, you can always find students in the computer classroom. They are either practicing typing, working on their assignments, or preparing work for other classes. We are working on a system to ensure all students have access to computer lab time through-out the week. It is great to see the students putting your donation to good use each and every day.
More Classes and Successes are on the Horizon
Currently our only limitation is the number of computers we have available and our teaching resources. We are looking forward to having 24 laptops in the computer classroom (with one additional laptop for the instructor). We still need about $6700 USD to purchase all of the computers & equipment we need to be at full capacity. If you know anyone who might want to help support this project, please consider sharing it via the Global Giving link below.
We can't thank you enough for your generosity and your support of this project. We have included some links below to share more information about the work we do at Welcome Ideas, which you can learn about via the link to our newsletter. We have also included another link to the video of our students thanking you for your generous support (this was included in the last update – but we wanted to include it again in case you missed it). Finally, we also included a link to a thank you video highlighting some of the computer graphic/animation work we will be teaching to our students.
We hope you enjoy the attached pictures of our new computer classroom in action!
Thank you! (or as we say in Zanzibar "Ahsante Sana!")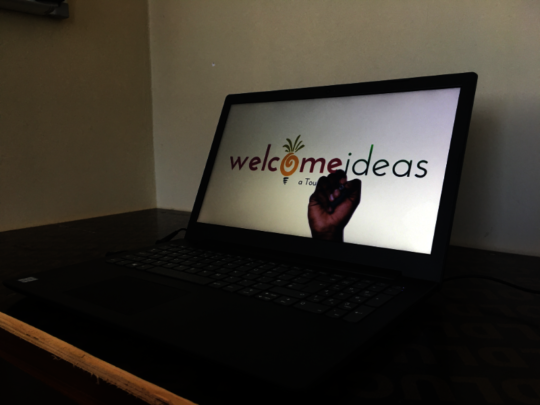 Links:
Attachments: