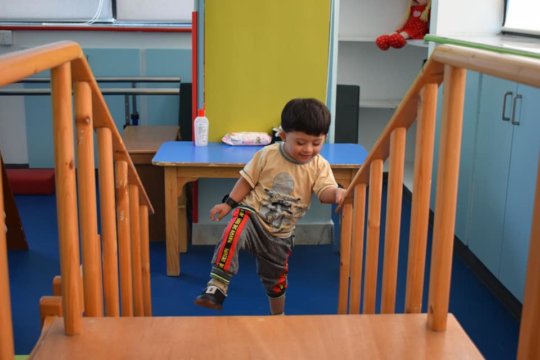 Dear Supporters,
This quarter was a breath of fresh air for KDSP. Many of our services which had become virtual owing to COVID-19 since March 2020 were resumed physically and we welcomed our wonderful stars with Down syndrome at our office February onwards. Some of the major highlights included:
Early Childhood Intervention (physical, occupational, speech therapies):
o In-person therapy clinics resumed at 50% capacity with 233+ therapy sessions conducted weekly
o KDSP presented its paper 'The Virtual Shift: Early Childhood Intervention Therapies for Pakistani Children with Down Syndrome During COVID-19' in the 36th Annual Pacific Rim International Conference On Disability & Diversity – Virtual as well as Aga Khan University Hospital's 23rd National Health Sciences Research Symposium
o New program was launched to train parents/caregivers for home-schooling their children
o Our preschool and afterschool programs catering to 25+ students resumed in-person
o Inclusion Facilitators were trained and placed in model partner schools in Karachi to facilitate the education of children with Down syndrome
o 100+ children and adults benefitted from a variety of programs - some of which are still running virtually while the rest resumed physically (Music and Movement, Paper Crafts, Block Printing to name a few)
o New programs were launched including BollyX (Bollywood inspired dance fitness program) and Life skills (self-care, hygiene, communication skills, money and time management and basic digital literacy) for adults with Down syndrome
o 747 handicrafts products were sold and proceeds handed over to our talented crafters with Down syndrome; simultaneously new handicrafts are being developed for KDSP's upcoming E-commerce Shop
o 75 children benefited from referrals, consultations and live-saving procedures at the Down syndrome Clinic at Aga Khan University Hospital (AKUH)
o 15 children benefited from the Developmental Pediatrics Consulting Clinic at KDSP
o 100 new families have been enrolled at KDSP, crossing the 1000 families milestone
o Informational support: 7 Family Support Group sessions have been arranged on topics including puberty, oral health and importance of expressive art techniques benefitting 45+ parents and caregivers
o Emotional support: The KDSP Parent-buddy program enabled 27 newly enrolled parents to find emotional strength and support through peer support pairing with experienced parents
o Financial support: 40 families were supported with monthly cash transfers and grocery bags
o To celebrate World Down Syndrome Day on 21st March and keep the Annual KDSP Carnival's spirit alive, we developed 'Carnival in a Box,' consisting of a themed box full of treats for over a 1000 families within our network.
o KDSP launched an awareness video themed #ConnectWithDownSyndrome, to portray empathic, responsible and meaningful connections individuals with Down syndrome are capable of forming, once we learn to see through the lens of inclusion.
o The team made some media appearances to spread awareness about Down syndrome.
Some stories from the field
"I have seen greater improvements in Hassan as a result of the therapies and it is wonderful to connect with the therapists in-person. I feel safe coming to KDSP seeing the strict SOPs that are followed here and the excellent crowd control", shared mother of Hassan
Mother of Arham (7 years old), shared: "The homeschooling program has not only benefitted my son, Arham, but my other (typical) children as well! I am learning how to teach all of my children now!"
Ibrahim is a 1.9 year old boy with Down syndrome with complexities in his heart - he was referred to cardiac specialists at AKUH (through KDSP) who eagerly took on his case and started his treatment. "Thank you KDSP for the endless support…we are very impressed with the overall experience at AKUH" says Ibrahim's father.
"Ammar enthusiastically follows every instruction and displays great craftsmanship when it comes to drawing, painting and quilling. These skill building classes have been instrumental in improving his ability to concentrate. He also runs his own Instagram handle @extraon21 and YouTube channel called Explore with Ammar", exclaims mother of 19 year-old Ammar
"Puberty sessions were a great learning experience, very enlightening and enriched with information. The sessions helped change my perspective and offered a refined lens to view things. I learnt about the importance of building an open and honest communication with my child, and how visual aids and social stories can help children learn and unlearn concepts. I even adopted visual learning strategies and have been successfully implementing them with my son", says Mother of 14 year-old Abdullah.
"Emama just received her Carnival in a Box from KDSP and we are really grateful to KDSP for spreading smiles among the stars of our families and giving them a chance to have what they deserve", shares Mother of Emama.
Thank you for all the generous support you have extended towards empowering individuals with Down syndrome. We look forward to your continuous support in our mutual mandate towards an inclusive society!
Love,
Team KDSP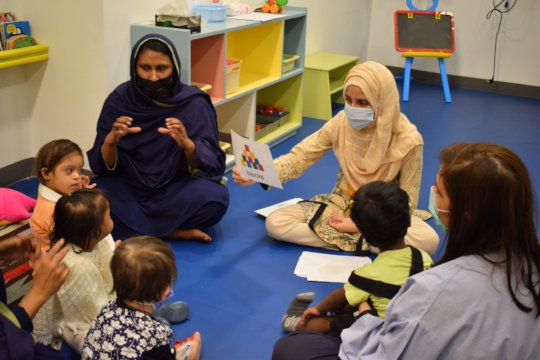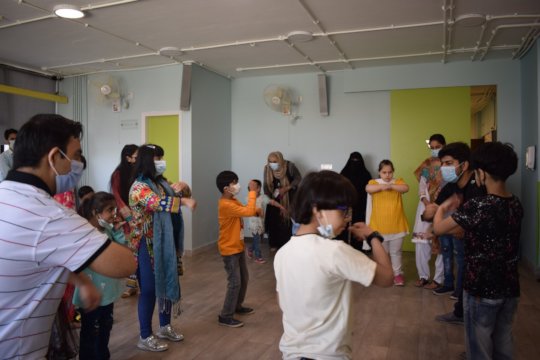 Links: