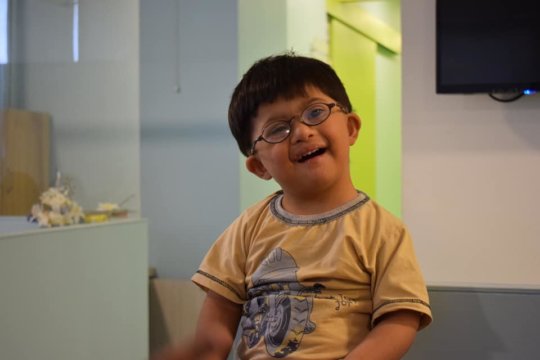 Dear Supporters,
With the onset of COVID-19, physically accessing quality healthcare for children with Down syndrome became challenging. However in this very quarter, we were able to see our many of our children access quality healthcare services in-person, thanks to your support. Specifically, the major highlights include:
66 children benefited from referrals KDSP made to the Down syndrome Clinic at Aga Khan University Hospital (AKUH) where they were able to receive appropriate medical advice from renowned specialists
6 children's medical tests were facilitated at AKUH through KDSP's referral
3 children's life-saving procedures were performed at AKUH, facilitated through KDSP
15 children benefited from the Developmental Pediatrics Consulting Clinics at KDSP led by Dr. Sidra, a renowned Developmental Pediatrician.
Some stories from the field
Yourasha is a 1.8 year old child with Down syndrome whose parents are daily wage earners and recently arrived at KDSP with their daughter concerned about her physical health. Through KDSP's guidance, they received a chance to consult Dr. Salman at AKUH for a special free of cost appointment that is available for all families who come to KDSP for the first time and have not had any medical screening done prior. Dr. Salman was able to guide the parents about Yourasha's condition and recommend visits to other specialists. Her mother shares, "The services that we received from AKUH were excellent. Dr. Salman and Dr. Babar were very understanding and listened to our concerns carefully. Thank you KDSP for showing us the way to the best healthcare providers!"
Mannat is a 2.5 year old child with Down syndrome who has recurring pneumonia and needs regular check-ups at AKUH to make sure her lungs are working well as they should. KDSP has supported her treatment at AKUH and she gets to avail the reduction in consulting fees with all consultants who are part of the Down Syndrome Clinic panel. In the words of her mother, "Thank you! We greatly appreciate KDSP's services and Mannat is doing great now, thanks to AKUH and KDSP's support."
Ali is a 5 year old boy with Down syndrome who has had several visits to AKUH recently because of his ill health. He appears to have complexities in his heart and lungs for which he has had consultations with specialists at AKUH as well as tests such as an Echocardiogram and BEP which have been sponsored by KDSP. The child is now in a stable condition with medicines and has even started coming in for early therapies (physical, occupational, speech) to KDSP. His father shares "All appointments were very smooth and we saved a lot of precious time. The doctors were great and extremely helpful with their guidance. Much appreciation for KDSP and its partner organizations."
Sarim is a child associated with KDSP who came over to have his checkup done by Dr. Sidra. His mother shares, "Thank you KDSP for being extremely supportive. Sarim is doing better after being examined by Dr. Sidra and taking the medicines that she prescribed him."
Thank you for all the generous support you have extended towards providing affordable, quality healthcare to children with Down syndrome. We look forward to your continuous support in helping children with Down syndrome lead healthy and fulfilling lives!
Love,
Team KDSP