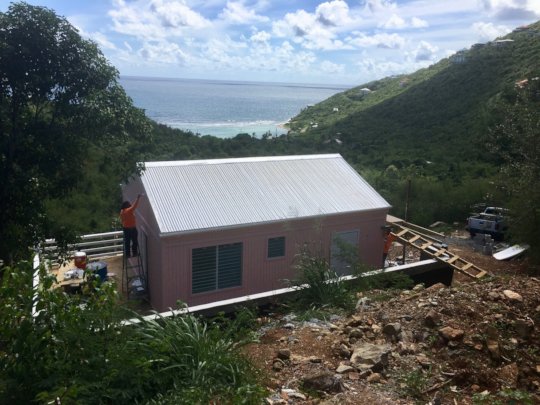 Thanksgiving is a time to celebrate family and community, and an opportunity for reflection and gratitude. Thanksgiving also coincides with the end of Hurricane Season, which is a particularly significant time for St. John residents and visitors alike. In the two years since Hurricanes Irma and Maria, there have been countless examples of strength within our small community, and demonstrations of love and compassion from our many supporters. This holiday season we recognize the progress we have made, and affirm our commitment to contribute to helping the island rebuild.
Today we would like to extend our sincerest gratitude to you for supporting Love City Strong. Since forming in 2017, our success has always been driven by those around us--Our friends, our neighbors, and our donors. You have given your time, your expertise, your hard earned dollars, and your kindness.
For over a year, we have been working on a large-scale home rebuild program known as the Resilient Housing Initiative, or RHI. This program is the largest public-private partnership that the community of St. John has seen in decades. It involves 4 nonprofit organizations, 3 dedicated St. John-based construction companies, and dozens of St. John businesses across multiple sectors all working towards a common goal: Bringing St. John home.
RHI is now the longest-running home rebuild program on St. John during the Hurricane Irma and Maria recovery, and has remained active since September 2018. By its end, RHI will have rebuilt over 40 homes belonging to Virgin Islanders who are all seniors, families with small children, or persons with a disability or chronic illness.
You've heard a lot about RHI from us since it began; it has been the primary focus of our social media, our website, and several news stories about Love City Strong. This is because it is a crucial component of the island's recovery, and we are so proud of the work that we have accomplished with your support. A quick trip through just about any neighborhood on St. John will show you that there is still so much work to be done, and so many homes that are still not rebuilt more than two years after the storms.
We believe in this program, and we know that you do, too.
Tuesday, December 3 is known as Giving Tuesday, the global day of giving. Giving Tuesday was created in 2012 as a simple idea: A day that encourages people to do good. Over the past seven years, it has grown into a global movement that inspires hundreds of millions of people to give, collaborate, and celebrate generosity.
This year, we ask that you join the movement and help us give the gift of a home to another of St. John's residents.
As of today, we have rebuilt 27 homes through the RHI program from the ground up, and we are more than halfway to our overall goal of rebuilding 40 homes. With your help, we can continue to perform this important work for St. John. This Giving Tuesday, join the movement to build a more just and generous world by donating to RHI. Your kindness, generosity, and support has got us this far--Together we are capable of greatness!