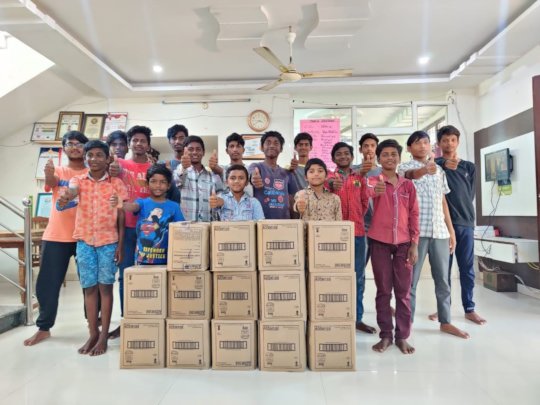 We are delighted to report the success of the initiative taken by ISKCON Prayagraj to help the poor and orphans.
With the outbreak of COVID-19, the economy of the world has drastically declined. In under-developed areas like ours, orphans and needy people are put in difficulty, in a struggle for basic elements of life. As a part of our national project "Food for Life", our team at ISKCON India will be supporting the local orphanages in feeding the much-needed nutritious food to orphanage kids and nearby villagers in the city of Varanasi, India.
Being a non-profit organization, the only source of revenue for the orphanage is donations from local people. During this time of difficulty, the donations to the orphanage have drastically declined, thus putting the children, staff & the nearby villagers in urgent need of support.
The orphanage has 55 children, teachers & employees who are completely dependent on the orphanage for their food, shelter, clothing, and other needs.
Last quarter we provided a "Happiness Kit" to each child here along with teachers and employees. The Kit consists of 3 Kgs of grains, two shampoos of 250ml, Shops, and sanitizers. We are also providing nutritious food to them regularly.
Leading our team, our friend Anil shares his experience "It was very heart touching and warming experience for me meet the orphans, serve them. It also reminded me of my fortune to have parents. I am extremely grateful to the caretakers here and supporters to help these children."
We are very thankful for all our generous donors and brave volunteers and local administration for their valuable support in this time of dire need when all needed you.
Again the second wave of Pandemic has hit everyone very hard and it is spreading so rapidly and engulfing a lot of populace in its jaws creating a fearful atmosphere. As a part of our service, we have also decided to increase our service of helping our friends with a lot more vigor and enthusiasm and increasing our outreach.
To accomplish this we need your support. We request you to come forward and help us once again in this dire time of need.