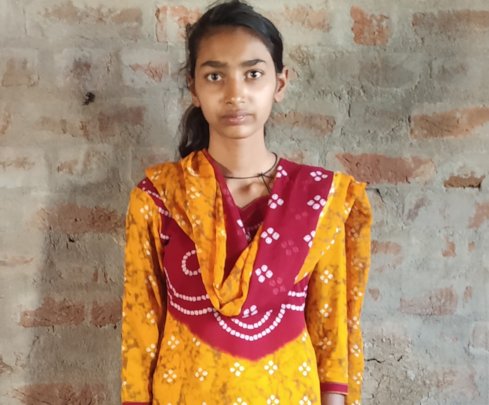 Dear well-wishers,
Regards from Gram Vikas Trust, Bharuch!
In this project update report, Gram Vikas Trust (GVT) wants to share a beautiful story of a girl. Who could able to work hard to build her future. She is one of the girls from her village, who has completed her graduation course, and now have applied for further studies. She is the only girl from her village who could able to complete her graduation course.
"Do not watch the clock, do what it does. Keep going."
- Sam Levenson
Dhara (name changed) is a small village girl, her father Ratanbhai (name changed) is an agriculture labor and her mother is a house wife. Dhara is the eldest daughter among four siblings. The youngest son is studying in 8th standard from the village school, and other sisters have dropped out after completing their 8th standard.
Ratanbhai has tried hard, for Dhara not to study further after completing 8th standard from the village. But Dhara was good in studies and she could able to convince her father for further studies, outside of her village. Dhara shared that, 'from 9th standard to my graduation studies it was very much difficult for me to continue the studies, as my mother and father were not supporting my higher education, they have been tried harder for my marriage, and few relatives were also tried to misguide my parents but I have not step back from my journey of education. Thanks to GVT for supporting me educational aid, as it could be very much difficult for me to study further if I could not receive the aid from GVT.'
Dhara has also tried for her sisters reenrollment in school and other girls from her village to study further but the community and culture of her village do not motivate the girls for study further. The community believes that the girls have to get married and they will not need education in managing household work, even the boys need not to study more as they also have to work in field/agriculture which also education is not required.
Though it seems development around the world, but the reality is far different. Still the tribal community do not understand the value of education. Education of girls is very less priority for them. GVT tries to support the girls like Dhara, who can become a role model for other girls.
Let us help Dhara and other girls like her, for making their future bright. Let us lighten the lamp of education by supporting such girls.