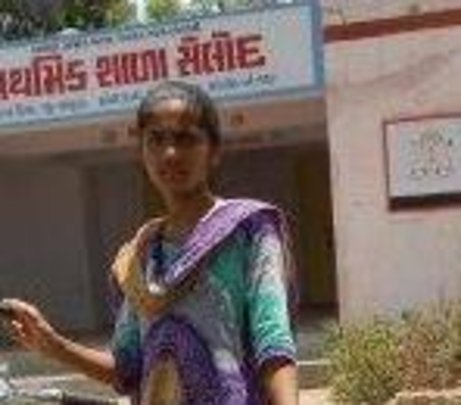 A Child without Education is like a Bird without wings; Tibetian Proverb
I would love to share the things that have been shared by the girls who received bicycle before 3 months through this project. The academic years for schools have been started since 1st June, 2014. The girls are able to go schools regularly. It is Monsoon in India presently, interior villages faces lot of problem due to heavy rain especially school children to reach school. While our visit to schools, the head master of the school shared his gratitude for providing bicycle to these girls. They used to have very less attendance before but now girls are coming regularly in the schools.
Girls go together to school. They are able to reach on time and do not miss any classes. All 20 girls are studying in different standard and they have enrolled in upper standard this year. One of the girls shared her feeling with me. Her name is Leanne Christee (Beneficiary name changed). She is enrolled in 9th standard this year. I feel so proud of her because she has cope up from all the barriers in life and has started attending school again after a drop out of 3 years. She was dropped out after 7th standard and now she is back to school. She says that I have to walk 14km a day to reach school and come back home. But now I do not have to take much trouble as I have got bicycle to go school and complete my education. I want to pursue graduation and this is an initiative to full fill my dream.
Thank you to all our donors and supports for contributing to full fill the dream of these girls. Your continue support will help make many other girls like leanne to get education. We are aiming to support more 250 girls this year.
What do you think? Please share your thoughts with us.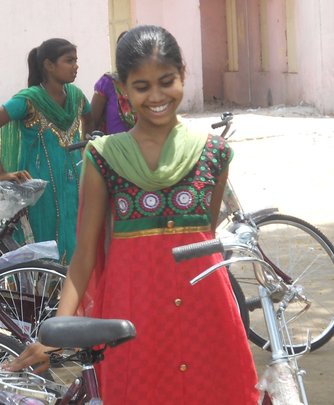 " Education is not preparation for life, education is life itself" says John Dewey
Whenever I think of education, It draws my attention to the education of deprived children who are willing to study at the thier best. People do pays high for the education of their own children, then why can't we contribute a little for the under privileged children? Very well said by Benjamin Franklin "An investment in knowledge pays the best interest".
The project is focusing on the education of girl child higher education in the interior village of Jhagadiya block in Bharuch district. These girls are dedicated towatds their studies & want to go ahead in life to achieve thier aims. I have seen their passion towards studies, No matter whether it is summer, winter or monsoon. But the only constrain for them is unavailability of educational tools & transport as such.
Darshana (Beneficiary) : She is enrolled in the 10th standard now. Her parents are agriculture labors. Her parenst motivates her to study much more. She shares that I want to become a teacher. Very innocently she also said that when I do not have enough resources to complete my 10th standard, how will i achieve my dream further?
This is where our thought begain to support the education of this girls. We are thankful to our donors for contributing to the noble cause.
Would you like to suggest us about how to enhance or improove in our project work?
AN EDUCATED GIRL WILL; "Stay healthy, save money, Build a business, empower her community and Lift her country"
This project could provide great platform to the girls from interior villages. It is helping large number of girls every year to complete their higher education through bicycle. The girls who received bicycle last year shares that "We want to study more & more till we achieve our future aim, since we got bicycle we have no reason to bunk school. We go to school every day & it helps us to save time for extra study." We could serve 300 girls to pursue higher education through this project. This year we have a target of 500 to promote higher education of girls being in interior village by providing them bicycle.
Recently we provided 20 bicycles to the girls of selod village. It is a hope to all girls achieves their aim by pursuing higher education. The bicycle to the girls of interior villages shows 95% percent attendance in schools. It also gives parents a sense security that girls go in a group and come together.
One of the bicycle beneficiaries. Her parents are daily wages laborer. Though her parents are very supportive to her education they are unable to afford cost of her education as they have to look after family expense. She is very happy since she received bicycle that she will be able to go to school every day apart she will reach on time at school. When she had no other access of transportation, there are many days where she used to absent in school. The bicycle given to her could help her to attend school so regularly with full attendance. The school teachers also shares that they can see the enthusiasm of these girls to come to school now.
We are grateful to all our supporters and donors who contribute for the betterment of society and especially for the girls' child higher education. Your contribution to this social means a lot to the education of children.
What else do you think can be a better way to promote education of girl child?
WARNING: Javascript is currently disabled or is not available in your browser. GlobalGiving makes extensive use of Javascript and will not function properly with Javascript disabled.
Please enable Javascript
and refresh this page.