Education is a progressive discovery of our ignorance.
Will Durant (1885-1981) U.S. author and historian.
The project supports education of needy children in rural villages of Vagra block of Bharuch district, Gujarat (India). Our objective is to serve these children is they would be able complete their education without any constrain. The children identified under this project supports children of agriculture and industrial labor worker. 
While interacting to these children, we have met children who dreams high but unfortunately their family do not have sufficient access to support education of their children.
We aim to provide them better access to achieve their dreams that they should not left out of education. We are interacting to the children on regular basis about their educational progress. They all are enrolled in educational institutions, but do not have sufficient educational aid to gain better education.
Thanks to all our supporters that they have always think of child's education. Your continuous support can help many children to not only dream but to full fill it.
Please provide your suggestions if we can do anything better in this project. 
Let us pick up our books and pens; they are our most powerful weapons
-Malala Yousafzai
Education is closely linked with people's health, their environment, their living conditions, their children's well-being and their ability to acquire knowledge and realize their potential.
All the girls beneficiary of the projects are from under privileged section of the society, it is not possible for thier parents to get educational aid for their children though they wish that his/her child could learn more and more. They are doing well though they have insufficient support, but a little more support can improove thier education.
GVT continued interaction with them and all the girls are going schools regularly and pay attention in class; They are good at studies but do not have enough resources to perform well in class. This project aims to provide the same to all the girls.
Krisha D'souza (name changed) one of the girl under the project was dropped out since 2 years because of lack of educational resources, but continuous interventions from GVT staff, she willingly ready to reappear in 12th board exam, GVT has avail all the guides and text book along with needed stationary to the Krisha, she cleared 12th board exam with 65% and now she is doing her Bachelor of arts (B.A) from Valiya college, now she is aiming to do Bachelor of education (B.Ed.) and be a teacher.
Thank you for all your support, and to all who are working on ths kind of nobel cause anywhere in the world. We will be able to provide educational aid to this girls if your support continues.
Please help us to make this project better, your inputes will be very useful.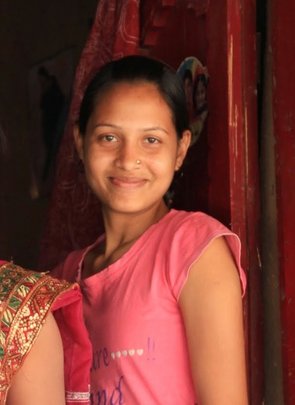 The following is a postcard from Neeharika Tummala, GlobalGiving's In-the-Field Representative in India, about her recent visit to Gram Vikas Trust.
Visiting the ladies in the Jhagadia block in Bharuch, was one of my most fun site visits. The ladies took a few minutes to open up, but after that they are all smiles and giggles as they laughed and spoke about school, their families and their cycles!
The Gram Vikas Trust staff (Harshad, Mittal and Jignesh) and I first went to a middle school where we visited a few classes with girls who had received cycles. School was out so we hung out outside in the courtyard as I got to learn more about the ladies. After that we drove in to the villages, which made me realize what a long distance it is to have to walk to school without any transportation. It was really easy to understand as to why girls in this area would be high risk for school dropouts.
However, after getting the cycles from GVT, the girls can now ride the cycles to the main road, where they get picked up by buses which go to school. I spoke to several mothers who talked about how nice it is to see their girls going to school and doing well. I also got to see a lot of the secondary benefits of having a cycle such as siblings benefiting from it as well and encouraging some after school riding. My favourite moment was seeing the girls riding back from school in a group and showing off a few tricks as they did a few circles and headed back towards us. It was so refreshing to see the enthusiasm that these girls have for school!
WARNING: Javascript is currently disabled or is not available in your browser. GlobalGiving makes extensive use of Javascript and will not function properly with Javascript disabled.
Please enable Javascript
and refresh this page.