"The whole purpose of education is to turn mirrors into windows" Sydney J. Harries
The Project supports children in rural Gujarat who are underprivileged and need support to continue their studies. The children covered through this project are studying in different streams. They do not get any additional help like as subjective coaching, reference books computer coaching, and stationary. This project aim to help 40 children belongs to rural area of Gujarat.
I would like to share a story of Jennifer (name changed). She belongs to a small village of Vagra block. Many of the girls leave their studies after 8th standard due to socially and economically backwardness, despite all the barriers Jennifer continued her Study and chooses Science Stream in 12th Standard. She is studying in government higher secondary school of Vagra. Her Father is truck driver and mother is agricultural labor, which makes very hard for them to afford her educational Expenses. We have helped her providing her coaching fees, school fees, exam fees, guides and reference book (physics, chemistry, biology) and Paper set. She is good in studies and will score a good grade in exam.
When last time I met Jennifer, She convey her gratitude by saying "Thanks to all the people who give their valuable time and money to support children like me"
This project has 39 more children who need support to continue their education. The children face many issues to drop out and discontinue their studies. Your support can be a single reason to put down all the reason that discontinues their education.
Thanks to all our donors to spend your time and support our cause. Please share your suggestions.
Riding towards the future project promotes education of girls belongs to rural Indian villages. Through this project we could successfully helped 2 girls by providing all education essentials for the current academic year.
Education is not received. It is achieved
Two girls from a remote tribal village have made this sentence true. The girls are from Padal village of Jhagadiya Block. In many remote villages girls left school after 8th standard. It is often because school is far away and Transport in rural areas is big challenge for girls. Some parents also not allow their daughters to travel on daily bases and cannot afford educational expense. Despite all this difficulties Alice and Anna (name changed) has Continued their Studies. They have cleared 10th std with best grades and now they are in class 11th standard.
The girls are from poor families. Their parents are agricultural labor they cannot afford educational expenses for their daughters. Gram Vikas trust have provided them educational aid (e.g.: Reference books, guides, question paper set, uniform, stationary etc.) to achieve their dreams. We have provided them bicycle to decrease the burden of transport. The educational material provided to them helped them to get good grades in the first internal exam.
Alice shares that " going to school is now more easier than before , educational material provided by Gram vikas trust is very helpful for assignments and exams''
Alice and Anna go to School regularly, they both have a dream to become graduate and they give their best efforts to fulfill their dreams. we are helping their dreams by providing them little support with your help .
Thanks to all donors who are helping us to help these girls. Your suggestions are always welcome.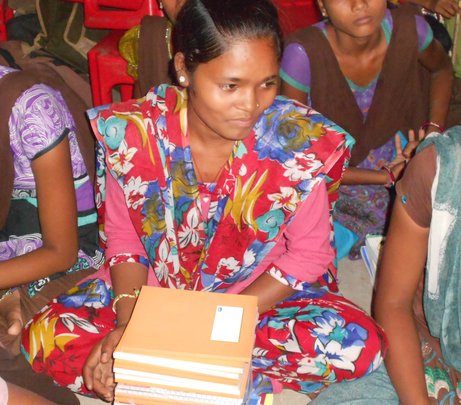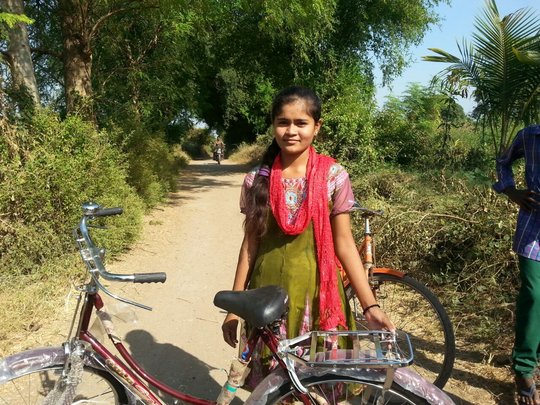 Dear donors regards from Gram Vikas Trust!!
The joy on the faces of the girls and the happiness of the parents made us happy. I am really glad to write this success report.
The girls were facing many problems to go to school and to come back home, but now the total picture has changed. We can see the happiness on the faces of girls and also the parents are happy.
Let me share a story of a girl named Ishita (name changed) is the eldest daughter in her family, studying in 9th standard. She has three siblings; her parents are daily wages laborer. Ishita was unable to continue her study because she has to stay home and look after her siblings. Her mother also not wanted to send her school because the school is far and also there is no means of transportation and it was taking much time to reach school. Ishita was above to drop out from school. Talking with the school principal we come to know about this issue and we communicated with Ishita and her mother. Ishita wants to study further but her mother was not ready, but we convinced her mother and re-enrolled Ishita by providing a bicycle.
Now she visits school regularly and also helps her mother in daily routine. She is very happy to go back school.
Once again a hearty thanks to the donors. Your suggestions are always welcome.
WARNING: Javascript is currently disabled or is not available in your browser. GlobalGiving makes extensive use of Javascript and will not function properly with Javascript disabled.
Please enable Javascript
and refresh this page.