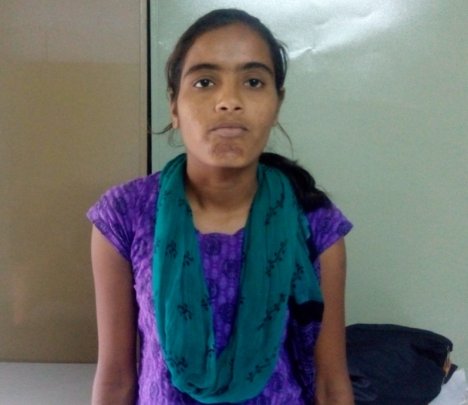 I would like to update the last progress report, in which I had shared a story of a girl who wanted to study further in medical line "Komal wants to become a Doctor".
Komal could not get admission in MBBS or Physiotherapy, as well in Nursing for the government seats. Due to high competition, she did not come in the merit list. She has applied for GNM Nursing and got admission in a private college in "The Bombay Patel Welfare Society", Bharuch district. Her fees for the first year is Rs. 75,000/- and total fees would reach approximately 3 Million for her three and half years of study. Gram Vikas Trust has helped her by giving her some aid of money to give some relief to her parents.
Her parents were not ready to support in her educational expenses as the fees were very high. Though Komal's school teachers and field officer from Gram Vikas Trust have approached her parents and convinced them for the minimum support they can afford. They said that they won't be able to afford all the expanses, they just want Komal to study hard, and they also shared that if she study hard the financial condition of their family will change.
There are many other Komal who are dropping out because of the financial condition of their families, I really thank to the donors who have supported for this cause. Your generous support to these students are really very meaningful.
I request the other great people for their support, to these 40 children in their education, your few rupees may change someone's future.
"We make a LIVING by what we get, but we make a LIFE by what we give"
- Winston Churchill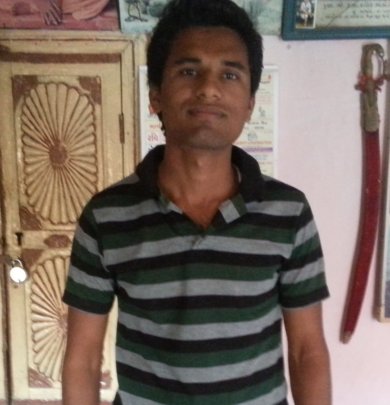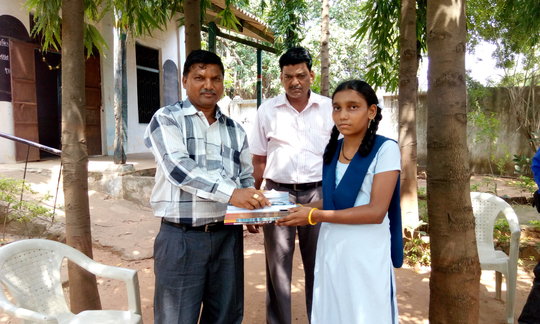 I would like to share one case study of a girl who has completed 10th standard successfully and have enrolled in 11th standard through the support of donors and GVT's continues intervention. Her financial condition is not good, they lives in a Puckka house (supported by Indira Gandhi Aavas Yojna), his father works in a company (GIDC) nearby their village as daily wage laborer, who is severe alcoholic who was totally against for her daughter's higher education. Her mother is handicap, she is not able to work and also remains sick. She has two sisters. All three children are studying and it is very tough for the parents to meet all the expanses of household and other educational expenses.
Reena (Name Changed) faced many difficulties to attend school. She lives in very interior village and the school is almost 24 KMs away from her village. She uses bicycle for 7 KMs and takes a Government bus to reach school and same she follows to reach back home. Once she reaches home she has to help her mother in cooking and other household work. After completing all the work she sits for study for one to two hours. She gets tired every day, she was thinking to quit her studies but she has strong desire to complete her study and wish to become a teacher.
The success story starts here, in her batch of 10th standard from her village, she is the only one who has cleared her examinations successfully. She shared that she was very nervous when her examinations were going on, her mother was very ill and lots of work of the family. She was not able to find time for her studies. But still she worked hard, managed her household work and study well. Finally she got the result of her hard work. She is very happy that she got helped by Gram Vikas Trust (GVT), she told that she would have never passed this examination if she didn't get educational help from us. The guides and books which GVT has provided was very helpful to her. It is rightly said that, some people dream of success, while other wake up and work hard at it.
We have found many students working hard for their future, they have realized their current situation and want to make their future bright. Your continues support is like light on the path of these children.
Once again thanks to the donors for their support.
Motasanja is a small village 4kms away from Jhagadia block, Bharuch district, Gujarat. In Motasanja there is only one Government Primary School which is up to 5th standard. There is no proper road which connects Jhagadia. All the villagers have to travel 4kms by walk from fields if they want to go to Jhagadia for studies or any other work. Many students from this village do not continue their studies after 5th standard because of this reason.
Jagruti is one of the best examples for many girls and other villagers. After completing 5th standard she wished to continue her studies. She herself motivated her classmates to continue their studies in Jhagadia. Many girls were not ready as well their parents. Somehow 4 girls from her batch got ready for further studies and also accompanied Jagruti. They have to walk 8kms everyday to reach school. Gram Vikas Trust has helped her and other 4 girls through giving them bicycles. All those girls are very happy and regular at schools. They do not have to walk and it is very easy for them to visit school.
Jagruti shared that God has helped her through this bicycle; the hard days has gone and it is the blessings of the God that he showers his blessings on her and her friends. The donor who helped her is the God for her. She also shared that she will work hard and complete her studies and will become a good person so that she also can help someone who is in need.
It is rightly said by Aristotle,"The roots of education are bitter, but the fruit is sweet." Jagruti is now facing bit trouble to get educate; she got the bicycle and also happy but she has to travel the same 4kms regularly, which will give her the sweet fruits.
May god bless her for her bright and fruitful future.
Thanks and regards to the donors for their continuing support to these birds, for giving them the wings.
WARNING: Javascript is currently disabled or is not available in your browser. GlobalGiving makes extensive use of Javascript and will not function properly with Javascript disabled.
Please enable Javascript
and refresh this page.