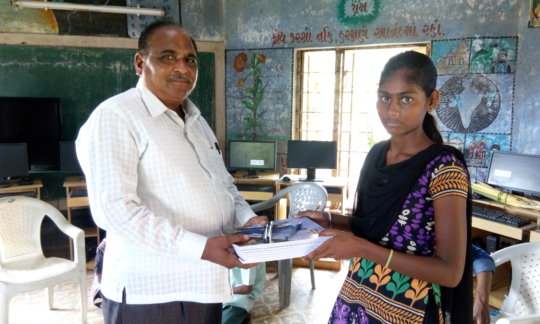 Dear donors!
I am really glad to share the progress report of the project "Riding towards the Future". This project has supported many girls from the interior villages of Jhagadia Block, district Bharuch (Gujarat, India). We have shared earlier about the background of these girls and the community, they are mainly tribal community, depends on agricultural wages and in nearby small scale industrial area.
The male dominant society, basically do not study further after primary education and fall into evil practices like consumption of alcohol, chewing tobacco and so on. Parents also do not wish to make their children study further and send them to earn for their lives and for the families. Similarly most of the girls are also not appreciated to study further, they only study up to 5th standard or 8th standard (pre-primary and primary education) in their villages. If we look at the current scenario of these villages, there are primary schools at the village level, for higher studies they have to visit other villages.
We have found some facts: 1) The parents are not aware about the importance of education, 2) Very interior villages and the high schools are far away, 3) less teachers in government schools, 4) parents cannot afford the educational expenses, 5) health related issues and so on.
Though GVT has succeeded at some level, many girls have started getting higher education, parents also wish that their children get education, GVT has provided Para-Teachers in some of the schools to fill the gaps.
GVT is celebrating its 15 years in the field, GVT is in the process of a strategic planning for the coming five years of 2016-20. GVT is mainly focusing on education, water, sanitation and hygiene promotion, sustainable livelihood, food, nutrition and health for the well-being of the underprivileged community specially women and children. These 15 years have taught us lot of things and it has been taken up into our action and many more things need to learn from these vast experience.
For the strategic planning of the coming years, GVT has started taking interviews and using other methods interacting with beneficiaries and stakeholders. GVT is keen to know about its change it has been made up in the community, or where it has to be focus more.
GVT will be very happy for the suggestions or inputs from the donors in the process of strategic planning, and also thanking them for their valuable support till now.