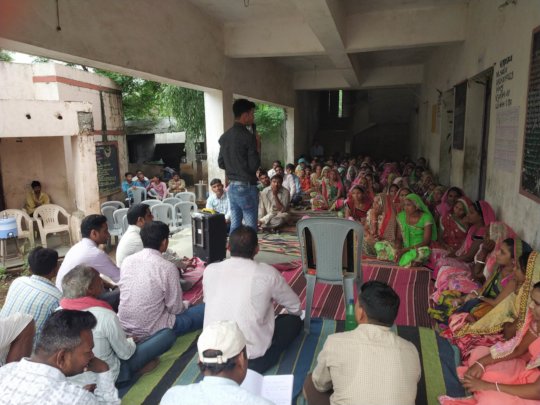 Dear Donors,
Regards from Gram Vikas Trust, Bharuch.
It's been long time to update you the Para Teacher in Government schools for children's education by Gram Vikas Trust (GVT). GVT will share with you all about few success story of children and teachers (Para teachers and Government teachers) of the children's learning level, best practices by Para teachers for best teaching learning experiences.
"Don't decrease the goal, increase the effort. Be thankful for the hard times for they have made you."
- Tom Coleman.
Para Teachers have become a back bone for government primary schools, through their support the government teachers could able to make the government project successful in few schools. Few days back government of Gujarat has introduce a new program called Mission Vidhya, in which government has aimed that all the children in school will able to learn according to their age, all the children from class 5 to 8, have able to improve their skills in reading, writing and arithmetic. Now it is a big burden on the government teachers, as many of the children were not coming to school, and so that they were very poor in reading and writing. Parents also do not give proper attention to their children and because of that children have not proper exposure towards education.
Para Teacher and Government teachers have decided to list out such children's parents and arranged a meeting with them, with the help of village panchayat, School Management Committee (SMC). In two schools the meeting was successful, also parents have agreed to support the children and school staff to improve their children's learning level, in one school panchayat, SMC were not supported but the parents support was good, and the school staff able to work with such children.
63 children were identified whose learning level was very poor, but at the span of 15 days the 31 children could able to start reading, writing and few skills in arithmetic. School teachers were little worried that the government program Mission Vidhya will not work, but with the support of Parents, SMC, Panchayat and Para Teacher the mission has reached on the right track.
Truly, the local Para Teacher have built a bridge between government school and community, GVT has motivated Para Teachers, government teachers to continue such best practices, and to involve local bodies in such program for sustainability of the project.