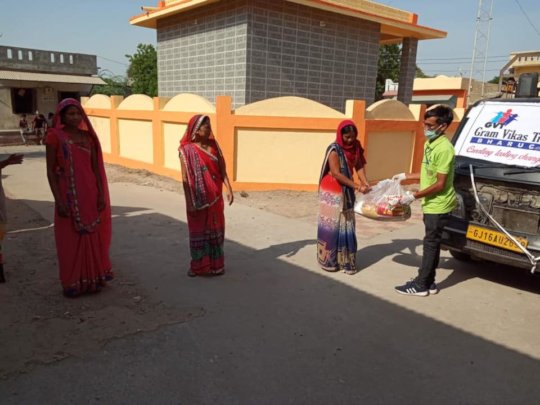 Dear well-wishers,
Regards from Gram Vikas Trust, Bharuch.
The world has started again, from many months all of us were stuck into our homes, but once again all of us getting back to the work or some of us are still working from home due to the pandemic. The middle class and upper class of the society have somehow managed in this crisis situation due to lack of job, or may be a little or no increment. Many financial crisis we might have faced and still facing.
But the poor or lower class of the society has not much highlighted during this crisis situation, who are the most affected people of our society. The laborers, daily wage earners, hawkers and other small skilled laborers have stopped earning from months, and due to this they do not able to cook a single day meal in their houses.
In Bharuch city only, many slums areas are there and they have been supported with some of the food materials with the help of some generous people around us. In lockdown also our warriors have not stopped by providing support to the needy one. Many migrants were stuck, they did not find any ways to go back to their natives and all the money have been finished in other expenses. So the need is now for the food, which they heavily needed as they were also not able to understand the situation which has arisen.
Migrant laborers, daily wages earners and many more are still getting support from Gram Vikas Trust, from April-20 onwards. Till date thousands of the families have received the food packets which can help the family to cook for almost a month. We have reached to the villages also, with the support from our local volunteers and supported the families who really need this.
The new normal has started but still many slums and village people are still jobless, they do not able to survive. Let us come together and help them out by our simple gesture of donating some amount of money, which can someone life.