Dear well-wishers,
Regards from Gram Vikas Trust, Bharuch.
The journey of a poor tribal student for education does not seems to be as easy as the society think. There are numbers of factors or barriers which affect the student to left the school or mark "full stop" on the education. It is really not easy for the children to come out from the orthodox culture of the society towards education. The tribal people are now equipped with the latest technology but they could not able to change their mindset to being educated. They are not able to think about the future and not preparing their children to face the change they will see in the future.
The main obstacle for children is their parents who are not aware/understand the importance of education and do not motivate/support the children to attend school on regular basis, or they do not even sit with them and discuss about the education. The culture of the community is other major reason, which affect the life of the students and with these two major reasons the same condition of the tribal community seen at Jhagadia block, Bharuch district.
Many of the girls and boys do not able to get education because of this mentality, and they have to remain in the same situation in which their parents have suffer. But they do not able to realize that education can change their situation.
Gram Vikas Trust (GVT) tries to break this misconception of the society, and trying to support the children for their better future through education, as this is the only way to change their mindsets. Many girls have been supported by GVT and they could able to change their lives, but still there are numbers of families who still live in the same condition. GVT provide educational support as well as educating the parents to educate the girls.
Let us come together to make some change in the society, let us educate the girls for a better society.
Dear Well-wishers,
Regards from Gram Vikas Trust, Bharuch!
Working with rural and tribal girls for higher education of the Jhagadia block and other rural belts of Bharuch district is one of the most fascinating thing for us. Many of the girls have re-enrolled with the efforts by GVT and team, the girls in the school boost our energy for working with them.
In this report, GVT will share a success story of Roshni, who have truly added some lights to her family. Roshni is being supported by GVT while she was studying in class 9th. She had left the school due to daily travelling from her village to school. GVT members supported her and re-enrolled her in class 9th. GVT provided her school materials, uniform, bicycle and other support for her schooling. After completing 12th she started Computer basic course, which was also supported by GVT. After completing her course she started working in one of the company in Jhagadia GIDC as data entry operator. Her starting salary was INR 10,000/-.
Roshni's father once was against about her higher education, but now he is the most proud person in the village and always talks about her daughter's success to everyone. Her father Rameshbhai (Name Changed) is supported her for her job. Roshni gave her first salary to GVT for other girls' education. And shared that GVT has helped me in completing my education, so I will donate my salary to GVT so that some other girls also can be supported.
Roshni's family financial condition was not good, but after her job her father got the help from her, it is not about the salary or economic condition of the family but the education, which will help the family to think beyond the myths and taboos of the society.
Let us come together for such girls who can light up the family by education.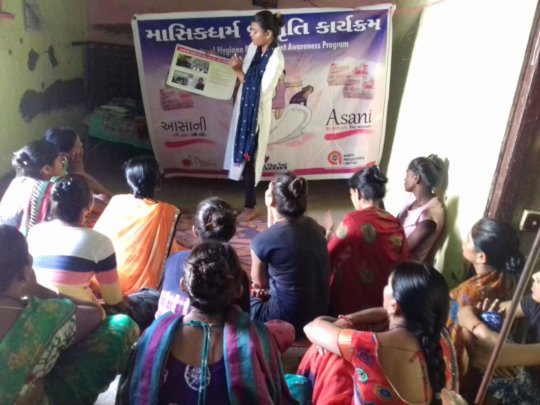 Dear well-wishers,
Regards from Gram Vikas Trust, Bharuch.
As GVT have started working closely with the women on their health related issues through safe sanitary napkins in rural Bharuch districts. Most of the girls, women do not use the sanitary pads and uses the clothes or some other ways during their menstrual periods and they come across with different health related problems. In the initial stage of our intervention our volunteers have identified that most of the girls and women are using clothes which is not properly washed or unhygienic. They do not share about their health related issues with anyone and just bear with it.
There are numbers of problems faced by the girls in the initial phase of menstrual cycle, later they just gets used to it. Our volunteers and Field Officers, are now in the phase of creating awareness about the hygienic practices through using the sanitary pads and how it becomes difficult to use the clothes and other ways.
In schools, community and wherever possible our volunteers and Field Officers are going to create awareness about the same, many girls are coming up with a positive and accepting the hygienic ways for the menstrual cycle but many are still not coming up, they just feel shy to talk about such issues. In some community it is also getting difficult for our staff to reach for such issues.
As the survey said out of 100 women only 20 to 30 women are taking care about hygienic practices during menstrual and using sanitary napkins the rest 70 to 80 women are still not ready to use it because of social taboos and other rigid culture. GVT is trying its best to create awareness and to create young leaders for positive change in the society. Let us come together to make it happen.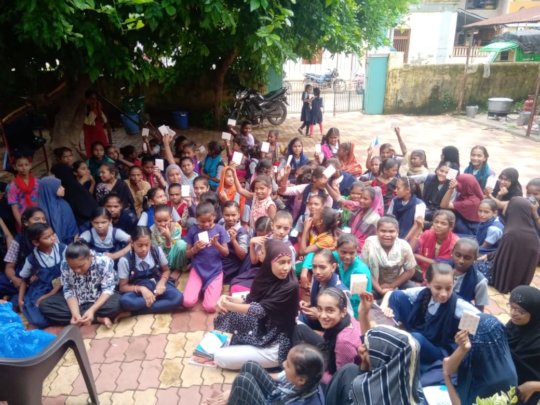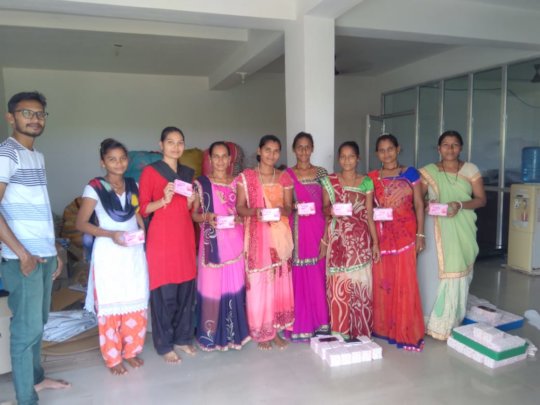 WARNING: Javascript is currently disabled or is not available in your browser. GlobalGiving makes extensive use of Javascript and will not function properly with Javascript disabled.
Please enable Javascript
and refresh this page.