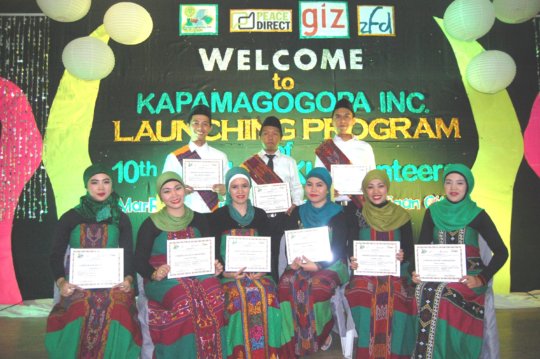 Dear friends and supporters,
In 2014...
9,526 people benefited from the peacebuilding activities of our volunteers in the Philippines
In 2015, with your help, we have been able to train another group of young women and men to become advocates for peace. The nine volunteers, made up of 6 Women and 3 Men, were selected from over 150 applicants last June. They were then given 5 weeks of intensive training in basic peace building and development during July and August.
To mark the beginning of their year-long volunteering experience, a launching ceremony was held on 25th August 2015 at MarRos Cocina, Iligan City. The ceremony was attended by the volunteers' families, KI alumni volunteers, Host Partner organizations, KI Board of Trustees, and other distinguished guests. They are the 10th Batch of KI Muslim Youth Volunteers to work for Peace and Development in Mindanao and Visayas regions of the Philippines.
The volunteers began their placements on 1st September 2015. Examples of the areas of work are: Assisting the deaf community in the Visayas with their advocacies; helping to set up a women's group in the poorest area of Mindanao; assisting in projects empowering Indigenous Peoples living in the hinterlands. We will bring you their stories over the coming year.
Thank you again for your support
Mariam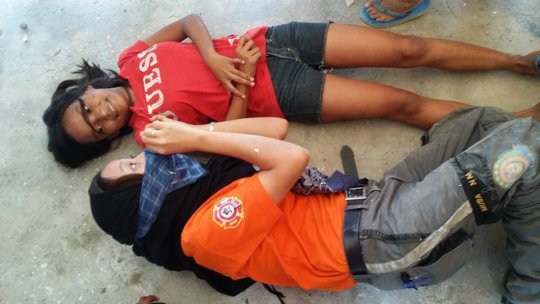 Dear Friends and Supporters,
This is the final report as the project ended on 30 September 2015. I am sure you are aware that there is still so much work still to be done in helping the survivors to fully recover, and I urge you to continue to support other worthwhile projects on Global Giving.
So what did you help us to achieve in helping over the last year?
To meet with the changing need our project changed focus shifting from relief to building disaster resilience so that the survivors would be better prepared to withstand future natural disasters.
We were able to train and place five youth volunteers from Mindanao to work for one year to help their fellow Filipinos. Aidah and Mei-Mei worked in Tacloban with Eastern Visayas Network; in Cebu, Bolkia and Mami with Gualandi Volunteer Service Programme and Nene with Rescue Assistance Peacekeeping Intelligence Detail.
Contributed over 7500 hours of volunteer work
Helped 3,471 People: (2,050 Female;1,421 Male) including 551 people with disability ( 323F; 228M)
Some examples of their work;
• Conducted psychosocial activities and distributed school supplies to 108 children affected in San Remegio, North Cebu.
• Consultation with 137 children and youth from 4 Municipalities of Leyte about Disaster and Risk Reduction activities and identify potential Adolescent Team Educators (ATEs) on Disaster and Risk Reduction.
• Workshop-Training of Deaf Disaster Assistance Team-Disaster Risk Reduction (DDAT-DRR) for the deaf.
• Conducted 6 Psychosocial activities for children affected by Typhoon Haiyan in Tacloban City, Leyte and Samar
• Assisted in the training of a total of 66 Civil Society Organization'champions' from both Leyte and Samar provinces in Disaster Risk Reduction (DRR)
• Disaster and Risk Reduction Training and First Aid Training and orientation of the Deaf in Cebu
• Disaster Preparedness activity to 200 children residing in the red light district of Cebu City
Thank you for you invaluable support
Mariam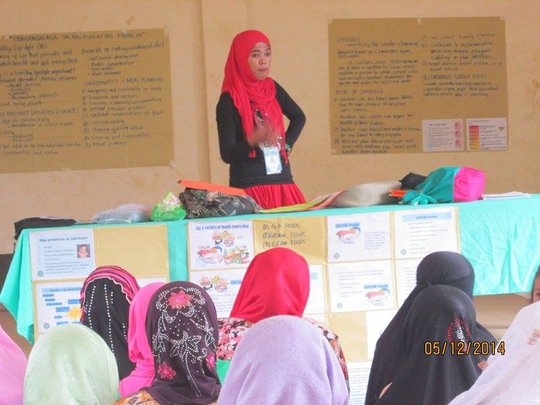 Dear Friends and Supporters,
Your donations go towards training and supporting our volunteers in their work. Not only are you empowering young people to improving their own lives, you are also indirectly helping towards improving other lives in Mindanao .
Two of our current volunteers are Nor-Jannah (Norj) and Jonaira (Jopay), they are placed at an NGO called United Youth for Peace and Development (UNYPAD). They have been working on a project that is helping out of school youth in Mindanao to gain livelihood skills. The project in collaboration with government agencies gave skills training and basic literacy using the Alternative Learning System. The youth learned various skills such as Automotive Repair, Bread and Pastry Making, Dressmaking etc
Norj had the huge task managed the database of all the trainees whilst Jopay organized many aspects of the training including coordination with local officials.
As well as increasing the employability, it also assists protecting the youth against stereotyping, extremism and other types of radicalization. These are the same outcomes that we aim for with our volunteering program.

Thank you for your continued support
Mariam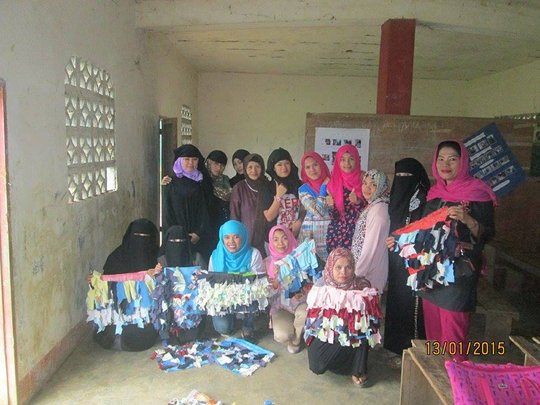 WARNING: Javascript is currently disabled or is not available in your browser. GlobalGiving makes extensive use of Javascript and will not function properly with Javascript disabled.
Please enable Javascript
and refresh this page.