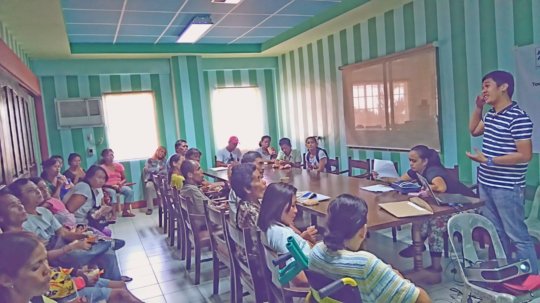 Dear Friends and Supporters,
As we enter the new calendar year, it is a time for many to start afresh. We at KI are also starting the recruitment process for our 11th Batch of Muslim Youth Peacebuilding Volunteers. Your much needed support will contibute to their upcoming development training. We look forward to infoming you of their progress in the coming months.
In this report, we thought we would share with you the story of one our previous volunteers, Saidomar, who finished his placement on September 1st 2016. All of our volunteers are asked to write their Significant Change Story at the end of their placement. Saidomar was placed in Cebu CIty in the Visayas region of the Philippines. The Visayas is more than 99% Christian, there are only a few Muslims living there.
My Unforgettable Experience by Saidomar
"Ever since I was in college during our National Service Training Program I really like to help my co-Filipino who is in need of help. That was the reason why I apply and entered to Kapamagogopa Inc. because I want to help people and share my skills and knowledge. During my volunteering I was assigned at Philippine Accessible Deaf Services. A NGO based in Cebu province that is working for persons with disability inclusive society. At first it was hard because Cebu is a Christian dominated area and I was placed in an organization where in more than 50% of the staff were Deaf. It's really hard to communicate with them. But as days goes by, I learned basic sign language and I was able to communicate with them properly. I am thankful that even though I am a Muslim, the Christian people that I've worked with during my volunteering in Cebu respected and trusted me. They treat me like how they treat their Christian friends. Some said that before they thought that Muslim were not good but after knowing me and other KI volunteer that they've worked with, they say that not all Muslim were bad. We had this good friendship relationship.
When I was there, I was able to know more about Person's with Disability (PWD) community. I became more aware regarding the challenges that they face in their everyday life. The opportunity to work and help the PWD sector is very fulfilling for me. I became more aware on how to deal with them and worked with them almost every day. We help each other to achieve our goal which is to have a PWD inclusive society particularly in Cebu Province. They inspired me to do more good things in life and to help more people who are in need.
The most rewarding in my volunteering is when I saw the PWD community in Cebu Province that they were now participating in different aspects of the society either in socio-economic, politics and etc. I can see the happiness to their faces when we are doing activities like when we had a PWD Summit. I can see that what we can do as a person's without Disability they can also do it. I am very thankful that I was given a chance to become a volunteer and helped other people in my own little way and developed my attitude and skills. My experience in Cebu were sometimes good and sometimes bad but still the whole thing was amazing. I will never forget this one of a kind and priceless experience. I will definitely share this unforgettable experience to my friends, relatives and up to my grandchildren."
Your invaluable support allows us to train and place more young people like Saidomar, which in turn helps in a small way to make the Philippines more peaceful and prosperous.
Thank you
Mariam