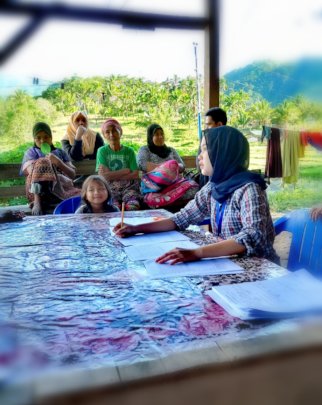 Dear Friends and Supporters,
I hope that you are all able to keep safe wherever you are in the World.
Covid 19: Due to the Enhanced Community Quarantine (ECQ) currently implemented by the Government, we have had to suspend all of our operations. I am not permitted to leave my home and no staff are able to go to the office due to the restrictions. Three volunteers have elected to stay in the office but are only permitted outside for essential items.
For this report, we will give you the story of Sahirah, who after four months in her placement, wrote about her experience of becoming a KI Volunteer.
VOLUNTEERISM: SELF-NOURISHMENT
Young. Fierce. Brave. I am Sahirah from Marawi City. 23 years old and finished my studies with a course of Bachelor of Science in Community Development Without my friends' knowledge, I was suffering from severe depression in my last three years in College. The reason was my family's expectation which caused me so much pressure. I was forced to love doing field work though it contradicted my dreams. "Field work was never my strength" I told to myself.
After my graduation day, the depression I felt increased. My family was expecting me to gain better work which caused me for not having good nights. Wet pillows weren't unusual. I was at the point of going outside my room for ablution purposes only. I even forgot what sour, bitter and sweet taste like. I lose about 3 kilo for a month only. With the reason of showing them my worth and for me to get from my room out, my sister encouraged me to do volunteerism. Coincidentally, Kapamagogopa Incorporated was open for volunteers. There was a lot of questions bothering me those times. "Like seriously? Me? Volunteer? I'm sick of doing field work". I passed my papers at KI office personally in the month of February and received text message from the project office saying I was qualified to be interviewed and attend written exam in the month of May. In all fairness, I passed the interview. On the following month, I received message from the project officer again for being qualified for the next step of KI hiring process. I qualified to be part of KI 1-year Volunteering Program. After a month of training, I and one of my co-volunteers were assigned in EcoWEB, Inc. It is a National NGO which is also engaged in Peacebuilding and Humanitarian work same as KI does. There was huge adjustment done by me for being assigned in a new organization. I was assigned in Cotabato during the disaster happened. Earthquake almost destroyed the province of Cotabato. As I stepped out from the car, my tears fell down. I just didn't know what come to my mind why I unconsciously cried after seeing community people living in tents made of tarpaulins and sticks. No foods and water. No shelter. No rug. The only thing they had is their selves.
Houses were devastated. Three-storey houses became ash. Luckily, there was response done by my host organization and I was part of the team. My contribution was not that much huge however I could feel that what I was doing was a big help for them. Their smile is what pushes me extend more help and do field work with heart as it was taught to me by Kapamagogopa Incorporated. Their thank yous rubbed out my negative stress. I am now falling in love with doing field work. I am now voluntarily engaging myself in responding at any disaster. as a volunteer humanitarian worker under KI, one of my objects now is to see smiles in people's faces. I am not hoping and dreaming for appreciation and honour for I believe god loves those who do good. What I want now is to spread happiness. I may not be able to make everyone happy but at least, I can make anyone happy.
There are few friends asking me the reason why I am just a volunteer when in fact according to them, there are a lot of opportunities out there where I can apply and possibly receive more money. Well, the only response I tell them is "I don't need money. I don't help because of money. I help because apart from it's our obligation as a human, I just love doing things without expecting any in returns and I love seeing people happy". We have to remember the idea that when somebody has something negative to say about us, it's often they have nothing positive to say about their selves.
With these things, I don't regret that I chose to enrol BS-Community Development and I am so thankful of not backing out from KI's offer as it opened more opportunities more than I expect. With it, I meet new friends; gain knowledge and skills; I am able to sightsee my veiled flairs and I was assigned in Ecoweb which really taught me philosophies. I just volunteered for four months as of this month of December however I feel like I have done many things. In addition to that, because of volunteering, my emotion was diverted. The depression I felt was lessen. As to my family's expectation from me, they enlightened me that they are not pressuring me. They just wanted goodthings for me. Moreover, what really makes me happy now is the idea that my family now is the one encouraging meto promote volunteerism through telling me "You can earned blessing by doing good deeds and helping the people".
Fieldwork wasn't my strength, but that was just my thought. I did it; and I will do it for god's sake.
Thank you!!!
Once again thank you for supporting KI
Stay Safe
Mariam