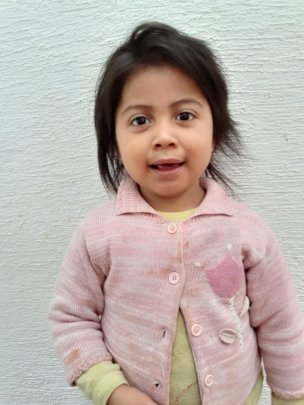 This report is slightly different to ones we have done previously; however, it shows the important work we do to continue to provide for our Casa Jackson babies, even after they have left the four walls of Casa Jackson.
Pictured is little Heidy, a child whose family we have been supporting for a number of years now. We first came to know them when they arrived at our Santa Madre Homeless Shelter in late 2018, having spent time living in the streets. Then, when Heidy and her sister Eva spent 5 months in Casa Jackson between February 2019 and July 2019 recovering from malnutrition. Now, almost a year after they left, we are still providing them with life-changing support.
We wanted to make sure that we could continue to support Heidy and her family after they left Casa Jackson as she and her sister had spent so much time with us. This year we enrolled Heidy and her older siblings, Omar, Damaris, and Cristian into our schools. Omar is studying in the Scheel Center School, Damaris is in the Hermano Pedro Special School, and Cristian and Heidy are at The Dreamer Center School. The children's mother, Doña Eva, has continued to be a member of the Club de Madres (Mothers' Club) which she became a part of while staying at Casa Jackson and now regularly receives vegetables and clothes. She also received a 45lbs. 'Amor en Caja' box of food supplies during the current pandemic.
Heidy's family has had a place to stay for the past 6 months, but they certainly haven't had a home. Where they were living could hardly even be called a house. It was on the front porch of another house with two sheet metal walls and two blanket 'walls'. The family was exposed to the elements and at serious risk of illness.
During the COVID pandemic we received a donation big enough to allow us to build one of our 'Casa Azul' houses for a family, and we chose Heidy's family because they had the greatest need. Right away, we began preparations to build them their very own house.
Our Guatemalan staff worked as a solid team to build this house in just 2 days while the family's children helped to paint the house. It was hard work but completely worthwhile as together we worked to change this family's life for the better.
We always want to stay in touch with the children who have stayed at Casa Jackson and their families to ensure that they don't become malnourished again, but we also want to do everything we can to fight the root causes of malnutrition as well. By building the family a house and providing a safe place for them to live we ensure that Heidy and her sister Eva have a better future and a lesser chance of falling back into malnutrition.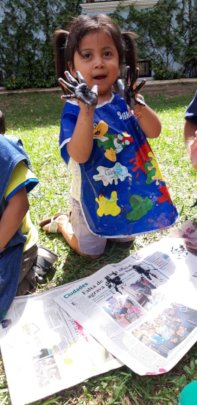 Links: